Asbestos Exposure, Mesothelioma Doctors and Lawyers in Monterey, California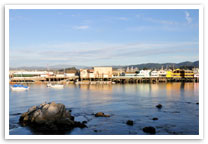 The city of Monterey, a waterfront community in Monterey County, is situated along Monterey Bay on the Pacific coast in central California. With nearly 30,000 year-round residents, Monterey's population swells to more than 70,000 people during the peak visitor season from May through October. Popular attractions in Monterey include the Monterey Bay Aquarium, Cannery Row, Fisherman's Wharf and the annual Monterey Jazz Festival. Monterey is also recognized for its rich history of resident painters and authors beginning in the late 19th century.
Incorporated in 1889, Monterey had been famous for the abundant fishery in Monterey Bay. That changed in the 1950s, when the local fishery business declined due to overfishing. More recently, Monterey has been notable for its involvement in post-secondary learning of languages other than English and its major role in delivering translation and interpretation services around the world. In 1995, Monterey was proclaimed as "The Language Capital of the World". Among Monterey's top employers are The Naval Postgraduate School (NPS), an accredited research university operated by the United States Navy; Pacific Gas and Electric; and Monterey Bay Aquarium.
Monterey, California has a lengthy history of activity in industries known for their use of asbestos-containing materials. Workers and loved ones exposed to asbestos may be at risk for mesothelioma cancer. If you or a loved one has been diagnosed with mesothelioma, you may benefit from contacting Dr. David Jablons. You should also consider contacting a mesothelioma law firm.
Asbestos Exposure at Jobsites in Monterey
The Mesothelioma Cancer Alliance has compiled information obtained from a number of sources to identify the following jobsites in Monterey where asbestos exposure was known to have occurred. These sites are listed below.
Chris-Craft
Custom House Packing Corporation
Del Monte Hotel
Del Monte Shopping Center
Fort Ord
Hyatt House Hotel
Macys
Monterey Airport
Monterey County Gas and Electric Company
Monterey Fish Company
Pg&E
Safeway
Sam Xavier Fish Packing Company
Travelodge - Fremont Street
U.S. Air Training Center
Us Naval Academy Post Graduate School
Western Fish Products Company
Locate a Mesothelioma Doctor near Monterey, California
We have compiled a list of mesothelioma doctors and oncologists that practice within a 100-mile radius of Monterey, California. Click on a specific doctor link to obtain more information about their areas of expertise, background, professional affiliations, office locations and contact information.
Dr. David M. Jablons
University of California San Francisco Thoracic Surgery & Oncology Clinic
Helen Diller Family Comprehensive Cancer Center
San Francisco, CA 94143
Distance: 87.7 miles
Dr. Thierry Marie Jahan
University of California San Francisco Thoracic Surgery & Oncology Clinic
Helen Diller Family Comprehensive Cancer Center
San Francisco, CA 94143
Distance: 87.7 miles
Contact a Cancer Center near Monterey, California
If you need help getting an accurate diagnosis or developing a treatment plan, the following mesothelioma cancers near Monterey, California have the resources available to assist you. More detailed information about each cancer center is available by clicking on the appropriate cancer center detail link.
Cancer Support Services Near Monterey, California
The following cancer support services may be of help to you while you are receiving treatment for mesothelioma. Support services for mesothelioma patients include patient transport, temporary housing, physical therapy and counseling.
California Treatment Support Services
Counseling & Support Groups

Dorothy E. Schneider Cancer Center


(San Mateo)
650-696-4405
Distance: 72.8 miles

ValleyCare Medical Plaza


(Pleasanton)
925-847-3000
Distance: 76.5 miles

UCSF Helen Diller Family Comprehensive Cancer Center


(San Francisco)
415-885-7210
Distance: 88.8 miles

Mercy UC Davis Cancer Center


(Merced)
855-254-0427
Distance: 98.8 miles

Long-Term Housing

Lazarex Cancer Foundation


(Danville)
877-866-9523
Distance: 85.3 miles

Family House


(San Francisco)
415-476-8321
Distance: 86.9 miles

Patient Transport

Eden Medical Transportation


(San Leandro)
866-292-6230
Distance: 79.1 miles

Physical Therapy

Palo Alto Medical Foundation


(Santa Cruz)
831-458-6230
Distance: 27.6 miles
Palo Alto Medical Foundation


(Soquel)
831-458-6230
Distance: 31.3 miles

OPTM Sports & Physical Therapy


(Los Gatos)
408-354-2223
Distance: 44.9 miles

OPTM Sports & Physical Therapy


(San Jose)
408-979-2300
Distance: 49.4 miles

Palo Alto Medical Foundation


(Sunnyvale)
408-523-3060
Distance: 55.0 miles

Palo Alto Medical Foundation


(Palo Alto)
650-853-3355
Distance: 61.4 miles

ValleyCare Cancer Rehabilitation Program


(Livermore)
925-373-4019
Distance: 65.3 miles

Palo Alto Medical Foundation


(San Carlos)
650-632-0816
Distance: 66.7 miles

ValleyCare Cancer Rehabilitation Program


(Dublin)
925-416-3667
Distance: 78.3 miles
Filing an Asbestos Lawsuit in Monterey, California
If you were exposed to asbestos at a commercial, residential or military site in Monterey, California and have been diagnosed with mesothelioma, you may be entitled to compensation. Don't lose your right to file a lawsuit to hold those responsible accountable. You must act quickly and file your claim within the appropriate statute of limitations for the state of California.
Legal Help for Monterey Residents with Mesothelioma
Dean, Omar & Branham, LLP is a law firm dedicated to using the legal profession to make our community safer. When someone is badly hurt because someone else did not act reasonably, we are here to help provide whatever justice the legal system can give the family who has been wronged.
Early, Lucarelli, Sweeney and Meisenkothen is a national law firm recognized for its representation of over 3,000 hardworking men and women who have been exposed to asbestos and diagnosed with mesothelioma. ELSM's experience in asbestos litigation spans four decades.
At Gori Julian and Associates, P.C., we have handled hundreds of mesothelioma lawsuits on behalf of people throughout the United States. This experience allows us to choose jurisdiction in which to file your case based on many factors including but not limited to state of residence, jobsites, and previous and current employers.
The lawyers of Kaiser Gornick LLP in San Francisco have extensive experience handling mesothelioma claims. We have obtained substantial compensation for our clients in successful verdicts and settlements.
Since its founding in 1974, Kazan Law has represented thousands of people suffering from asbestos related illnesses, particularly mesothelioma. Our principals are among the most experienced mesothelioma lawyers in the country.
Levin Simes is staffed with expert attorneys with decades of total experience litigating and trying mesothelioma cases.  Our staff of lawyers, investigators, and legal assistants are here to assist you and your family with both the legal aspects of your diagnosis, and the personal and medical.
As one of the nation's leading mesothelioma law firms, Simmons Hanly Conroy has a proven track record. Every mesothelioma lawyer at the firm is committed to helping families affected by mesothelioma and asbestos-related diseases.
Resources for Monterey Mesothelioma Patients
Asbestos-Related News in California
A recent study from Stanford University tested the use of inactivated induced pluripotent stem cells (iPSs) for personalized cancer vaccines that could treat and even potentially prevent cancer. The study is still in the early phases and has only been implemented in mice modules, but shows promise for the potential to vaccinate patients against various types of cancer, including mesothelioma, melanoma, and breast cancer.
Cousins Conor Lewis and Zack Johnson are premiering their documentary, Dirty Laundry, at the San Luis Obispo International Film Festival this week. The 75-minute film is a result of the cousins' 4,800 mile cross country cycling trip to better understand their grandmother's death as a result of pleural mesothelioma.
Author: Linda Molinari
Editor in Chief, Mesothelioma Cancer Alliance
Read about Linda
Reviewer: Jennifer R. Lucarelli
Lawyer for Mesothelioma Victims and Their Families
Read about Jennifer