01. Mesothelioma Book Offer
100 Questions & Answers About Mesothelioma Offers Resources for Mesothelioma Patients
Written by healthcare professionals and family members of a mesothelioma patient, 100 Questions & Answers About Mesothelioma is a top resource on this rare cancer. We offer this book for free to empower patients and their loved ones to make informed decisions.
100 Questions & Answers About Mesothelioma provides trustworthy information on topics patients and their loved ones care about, including:
An overview on mesothelioma cancer
Support to cope with a diagnosis
Treatment options and making treatment decisions
Post-treatment recovery and expectations
Caregiving and support for patients' family members
​​An objective overview on victims' legal rights
About the Authors
Dr. Harvey I. Pass is a renowned thoracic surgeon who specializes in mesothelioma. Dr. Pass has been contributing to mesothelioma research since the 1990s. He has been involved in numerous clinical trials for promising mesothelioma treatments. Dr. Pass has also focused on research to help with early detection.
Mary Hesdorffer, NP treated mesothelioma patients for more than 15 years. She later worked with the Mesothelioma Applied Research Foundation. She served as the nonprofit's Executive Director until 2021.
Sarah Elizabeth and Sarah Ann Lake are the surviving wife and daughter of mesothelioma patient Phil Lake. Phil survived for nearly 10 years after his diagnosis. Sarah Elizabeth and Sarah Ann provide their experiences caring for Phil and how they found support throughout this difficult time.
This resource can help mesothelioma patients, their friends and family members get answers to pressing questions and know they are not alone. The four authors of the book share their knowledge, insights and experiences with this rare cancer.
100 Questions & Answers About Mesothelioma is a valuable resource for anyone facing mesothelioma. Get your free copy of this book today.
02. Other Book Resources
Additional Resources for Mesothelioma Patients and Their Families
Mesothelioma cancer patients and their loved ones may be interested in additional support options and information. There are many other books on cancer, caregiving and related topics. These books may help individuals with further research and provide a sense of community.
Mesothelioma may be a rare cancer, but traditional cancer resources can still offer support to patients and their families.
Mesothelioma.com also provides information and resources for patients and their families. We want mesothelioma patients and their loved ones to feel supported at every step of their cancer journey.
Helpful Books About Cancer
Patients or their loved ones may be interested in reading other books that discuss relevant topics for battling mesothelioma. We have compiled a list of books to help further educate and support those dealing with a mesothelioma diagnosis.
Chicken Soup for the Soul: The Cancer Book 
This collection of 101 personal stories from cancer patients, their loved ones and medical professionals provides inspiration and support. The stories cover a wide range of experiences from diagnosis to recovery.
Patients share about their initial diagnosis, telling loved ones about their diagnosis, coping with treatment side effects, end-of-life issues and more. Patients can also read a bonus memoir, "It's Just a Word" by cancer patient Elizabeth Bayer. Reviewers found the stories uplifting, inspiring and helpful.
What to Eat During Cancer Treatment
During cancer treatment, it's important for patients to have a proper nutrition plan. The American Cancer Society published this book of more than 130 recipes to help patients get the nutrition they need during treatment.
The book includes evidence-based research around the common eating-related side effects of treatment, including nausea and taste changes. The book also features information on food safety, tips to stay hydrated, how to handle vitamin deficiencies and more.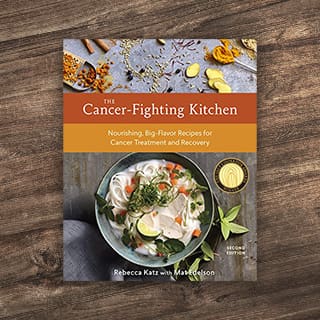 The Cancer-Fighting Kitchen, Second Edition: Nourishing, Big-Flavor Recipes for Cancer Treatment and Recovery
A nutrient-rich, balanced diet may ease cancer treatment side effects for mesothelioma patients. This second-edition book contains 150 new and updated recipes to help patients address their needs throughout treatment. Each recipe is followed by a nutritional analysis, scientific-based research and explanations of the potential benefits of different foods.
Preparing meals while managing the side effects of treatment can be difficult. So, many of the recipes in the book are also simple to prepare. Readers will also find tips for caregivers who prepare meals and building a culinary support team.
The Caregiver's Guide to Cancer: Compassionate Advice for Caring for You and Your Loved One
Caregivers for cancer patients face many emotions and challenges. This book offers practical advice to help caregivers care for themselves and their loved ones.
The book provides information to help caregivers better understand cancer, navigate decisions and learn how to be an advocate.
Author Victoria Landes is a licensed clinical social worker with more than 30 years of experience in the medical field. As the breast care coordinator at Kaiser Permanente for over 12 years, she worked with patients, survivors and their loved ones.
Are you looking for help with financial assistance, finding a doctor or getting answers to your questions? Our team is ready to help you. Click on a link below so our team can reach out and help support you with your needs.
A Book for All Patients
Dr. F. Perry Wilson's new book How Medicine Works and When It Doesn't provides insight into building trust between patients and doctors. Dr. Wilson believes patients and doctors need to trust each other. But the healthcare establishment has made that difficult.
Dr. Wilson acknowledges the recent years of discord between patients and healthcare providers. His book attributes this friction to systemic issues that cause patient suffering and mistrust. He also provides a path to overcoming these problems and restoring mutual trust. Ultimately, Dr. Wilson reminds readers that patients and doctors are on the same side and must work together to fight disease and suffering.
03. Support for Mesothelioma Patients
More Support for Those Impacted by Mesothelioma
Since 1996, Mesothelioma.com has been dedicated to being the top resource for those impacted by mesothelioma. Our goal is to provide patients and their families with the information they need to make important medical and financial decisions. We provide various resources to cover impacted individuals' needs, such as support for caregivers, help finding treatment and access to legal connections. Individuals can also speak to mesothelioma survivor Heather Von St. James to learn more about her experience.
"I distinctly remember it was the middle of the night. I couldn't sleep, so I got up and went online and googled "mesothelioma." It was not long after my diagnosis. I read some of Mesothelioma.com and filled out the form.
The next morning at about 10 am, Jennifer called me. For the first time, I felt like I was talking to someone who understood my concerns, my fear and what I was up against. She assured me that Dr. Sugarbaker was the absolute BEST choice for me, and she promised she would do everything she could for me. It was the start of a great relationship."
Caregiver Resources
Mesothelioma caregivers face many challenges in taking on this role. Finding the right resources and support system is important for a caregiver's well-being. We offer in-depth information and support around many areas of interest for caregivers, including:
Navigating health insurance and treatment costs
Planning for long-term care
Counseling and other support services
End-of-life planning
Find more information on these topics on our Caregiver Resources page.
Patient Resources
We are dedicated to providing mesothelioma patients and their families with the resources they need, wherever they are in their journey. We have helped thousands of patients and their loved ones navigate the challenges of a mesothelioma diagnosis.
After a diagnosis, patients face many important decisions around treatment. We offer a free treatment guide that covers the latest available treatment options. We can also help patients find mesothelioma doctors and cancer centers.
We also recognize the financial strain such a diagnosis can cause. We guide individuals through their options for financial assistance that can help cover treatment costs and lost wages. We can also help those interested in taking legal action, so patients can focus on their treatment and time with loved ones.
Learn more about how we can help support you by visiting our Patient Resources page.
Looking for more information on mesothelioma? Here are some links to get you started: