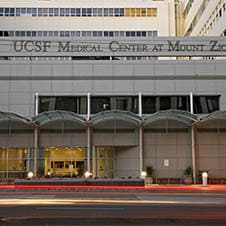 University of California San Francisco at Mount Zion
---
Contact Information
Helen Diller Family Comprehensive Cancer Center
1600 Divisadero Street
San Francisco, CA 94115
(888) 689-8273
Headquartered at the medical center's Mount Zion campus in San Francisco, California, the Helen Diller Family Comprehensive Cancer Center is the renowned cancer treatment arm of the University of California San Francisco Medical Center (UCSF). Named after a Bay Area philanthropist, the Helen Diller Cancer Center brings together scientists and clinicians from a wide spectrum of backgrounds with one shared goal: preventing and eradicating cancer. Its success has been notable.
A key figure in the history of UCSF's cancer care was David A. Wood, a respected doctor who served as the first director of the UCSF Cancer Research Institute starting in 1948. Wood brought to his position a belief that to cure cancer, the medical community must take a "multidisciplinary approach, both clinical and basic scientists working together." This philosophy remains central to the hospital's beliefs today.
In 1999, UCSF's cancer center was designated a "comprehensive cancer center" by the National Institutes of Health, the highest possible designation bestowed by the government agency. The title recognized the center for its scientific excellence, diverse research tactics, excellent patient care, and effective outreach activities that seek to prevent as well as control cancer. In 2007, the UCSF cancer center was renamed as the UCFS Helen Diller Family Comprehensive Cancer Center, paying tribute to support from Bay Area resident Helen Diller and her family.
The University of California San Francisco at Mount Zion fully understands diagnosing and treating mesothelioma. They take a careful approach to develop treatment plans unique to the patient's situation and type of mesothelioma. Patients seeking treatment at this cancer center can also undergo clinical trials.
Specializations:
Clinical trials
Standard and experimental mesothelioma treatments
Mesothelioma Clinical Trials at University of California San Francisco at Mount Zion
The following clinical trials are in progress or actively recruiting participants at University of California San Francisco at Mount Zion:
---
Conditions: Carcinoma, Melanoma, Carcinoma, Squamous Cell, Uterine Cervical Neoplasms, Mesothelioma, Breast Neoplasms, Cholangiocarcinoma, Nasopharyngeal Carcinoma, Lung Neoplasms, Carcinoma, Basal Cell, Squamous Cell Carcinoma of Head and Neck, Endometrial Neoplasms, Carcinoma, Non-Small-Cell Lung, Colorectal Neoplasms, Carcinoma, Neuroendocrine, Thymoma, Small Cell Lung Carcinoma, Anus Neoplasms, Vulvar Neoplasms
Last Updated: February 21, 2020
Status: Recruiting
---
Conditions: Mesothelioma
Last Updated: November 13, 2019
Status: Recruiting
Related pages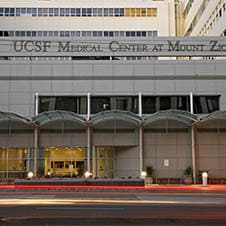 Get Help Contacting University of California San Francisco at Mount Zion
Free
Mesothelioma Treatment Guide
Please fill in the form to request our FREE Mesothelioma Treatment Guide.
It will be sent to you within 24 hours.