01. Who We Help
Who Our Scholarship Helps
The following individuals are eligible for the Mesothelioma.com Scholarship:
Those who have battled cancer at any point in their lives (not limited to mesothelioma)
Those who have a parent, sibling, immediate family member or close friend that has battled, or is currently fighting, cancer (not limited to mesothelioma)
We know how devastating a cancer diagnosis can be. Through our work with mesothelioma patients and their loved ones, we recognize the mental, emotional and financial strain this disease can cause.
02. History
Mesothelioma.com Scholarship History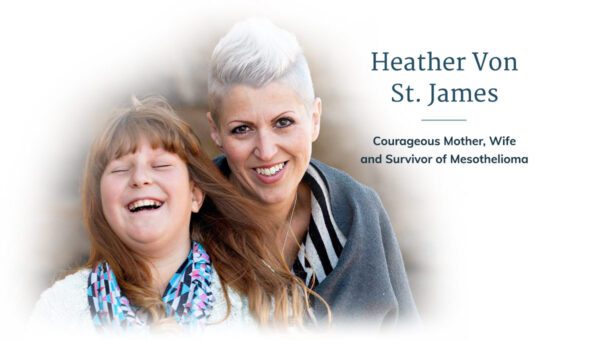 The first Mesothelioma.com Scholarship was awarded for the 2015 school year. The scholarship program was created in honor of mesothelioma survivor and advocate, Heather Von St. James, and her husband Cameron, who enrolled in college after Heather's diagnosis.
Now, we want to hear about your experience, how it affected you and how we can help.
"When I got sick, our world as we knew it crumbled. I had to quit my job as a salon owner and stylist and concentrate on treatment. Our income was instantly cut. Cameron, my husband, knew that he had to get his degree to do better for our family, including our newborn daughter Lily.
Furthering one's education is something Cam and I are incredibly passionate about, and we know from experience how hard it is to balance family, jobs and school (not to mention a wife who's fighting cancer). But while it can be difficult, the rewards are too numerous to count. Hopefully, this scholarship can give a little extra help to someone in a time of need."
---
– Heather Von St. James
Pleural Mesothelioma Survivor
03. Application Requirements
Scholarship Application Requirements
To qualify for the Mesothelioma.com Scholarship, applicants must:
Be enrolled full-time at an accredited two-year or four-year university, community college, junior college or graduate degree program
Be a United States citizen
Be in academic "good standing" and have a minimum grade point average of 3.2
If you meet these requirements, you are eligible to apply for the scholarship. Interested students must collect several items to complete their application.
Applicants must submit a written essay (500 – 1,000 words) or video submission (4 – 5 minutes) answering the following questions:
How has cancer affected your life and outlook on your goals?
How did this adversity shape who you are today?
What would this scholarship mean to you? Why is it important?
In addition to the essay, please submit all of the following:
Unofficial academic transcript: Your transcript is used to verify your GPA.
Proof of enrollment: Eligible applicants are enrolled at an accredited two-year or four-year university, community college, junior college or graduate degree program. Proof of enrollment may be an official letter verifying your enrollment, your class schedule for the current semester or a bursar bill showing your deposit. High school seniors may submit their acceptance letters if they have not yet committed to a college.
One letter of recommendation (LOR): Your LOR should detail why you are the best candidate to receive the scholarship. Preference will be given to students whose LOR speaks to why they deserve this scholarship, specifically.
Honors & volunteer work: Information about any honors you have received as well as any volunteer work you have done. Please summarize in 1 – 2 sentences for each.
Please submit all documents in PDF format with the following naming conventions:
LastName_Enrollment
LastName_Essay
LastName_HonorsVolunteerSummary
LastName_LOR
LastName_Transcript
Have a Question About the
Mesothelioma.com Scholarship?
Contact us at [email protected].
Mesothelioma Scholarship Selection Process
For the Fall 2024 Mesothelioma.com Scholarship, all applications are due by March 31, 2024. All entries will be reviewed by the staff at Mesothelioma.com once the deadline passes. The winner will be chosen based on:
Commitment to academic excellence
Financial need
Positive impact the applicant has had on those around them
Quality of their submitted materials
Strength in the face of adversity
The student who is awarded the $4,000 scholarship will be notified no later than May 1, 2024. Funds will be disbursed to the student's school for the Fall 2024 semester. The winner will then be announced through Mesothelioma.com's social network of over 50,000 followers. Mesothelioma.com will only contact the winner of the scholarship.
Any attempt to falsify claims in an applicant's story will result in immediate disqualification.
04. Apply Here
Mesothelioma.com Scholarship Application Form
Applications for the 2024 scholarship are now open. The application deadline is March 31, 2024.
05. Previous Winners
Previous Mesothelioma.com Scholarship Winners
We select winners based on the strength of their application and character. Once we've reached out to the year's winner, we work with them to create a blog post about their story. Learn about some of the previous Mesothelioma.com Scholarship winners.