A reputable mesothelioma lawyer will help you receive money to pay for treatments, living expenses, and other costs related to your mesothelioma diagnosis.
Finding a lawyer who is familiar with the asbestos laws and litigation in your state is critical to ensuring you get the compensation you deserve. The lawyer or law firm should have a solid track record of top jury awards and settlements for its mesothelioma cases.
A good mesothelioma lawyer has the right combination of drive, dedication, and determination to fight hard on your behalf for the highest settlements possible, along with strong compassion and understanding for what you and your family are going through as you work through the process together.
A Great Mesothelioma Lawyer Should Be
A great mesothelioma lawyer is compassionate, understanding, and sensitive to what you and your family are going through. They will take the time to understand your situation, listen to the concerns you have, and comprehend the problems and complications you are facing. If your attorney is not willing to sit down and understand how asbestos exposure has affected your life, then find one who will.

The best mesothelioma attorneys focus exclusively on asbestos litigation. In doing so, they develop expertise with all matters of asbestos law. Having a solid grasp of both federal and state asbestos laws, they will be able to advise you properly about the best venue in which to file your complaint, and they can provide you with a realistic estimate of how much you might be eligible to receive for a settlement.

Putting together a mesothelioma lawsuit takes time and a lot of hard work. Only the best lawyers will have the proper resources to pull together the required information, documentation, testimony, affidavits, complaints, and other materials necessary to build a solid case for you. Having the right resources available ensures that your case will be handled efficiently and will help you to receive compensation quickly.

Only highly experienced mesothelioma lawyers win the largest settlements for their clients. Look for an attorney who has a documented proven track record with handling asbestos-related cases when seeking compensation for your injury.

Great mesothelioma attorneys are recognized by their peers and national organizations like Martindale-Hubbell for their excellence in going above and beyond to fight for their clients' legal rights. Settle for nothing less than a lawyer you can trust, a lawyer who can deliver results, and a lawyer who is recognized by industry leaders and peers.
How a Mesothelioma Lawyer Can Help You
Whether you are a patient or a surviving family member, an asbestos lawyer who focuses on mesothelioma cases can help you in many ways:
Free Case Review – A reputable lawyer will offer to review your case free of charge. This includes providing a realistic expectation about potential compensation if you decide to file a mesothelioma lawsuit.
Available Compensation – A mesothelioma attorney can help you understand what types of compensation may be available to you, such as settlements, verdicts, or trust fund claims.
Focused Legal Support – By hiring an attorney who focuses on mesothelioma, you will have access to the most recent information about past and current trials, including how to build the most effective case.
Research Assistance – Even if you are not sure how you were exposed to asbestos, your lawyer can help obtain employment, union, military, residential, and medical records on your behalf. Your attorney will also gather other evidence to be used for your case, such as depositions and testimony from witnesses and experts.
Venue Selection – A qualified attorney will help you choose the court in which to submit your mesothelioma claim, to give you the best chance at receiving compensation.
Case Management – Your mesothelioma lawyer will manage your case and keep you informed of developments along the way, giving you an opportunity to focus on treatment and spend time with family. In most cases, you will not even need to travel or appear in court.
Mesothelioma and the Law
Get answers to common questions about mesothelioma lawsuits and other parts of the legal process.
Lawsuits
Why should I file a lawsuit?
Will I have my own lawsuit or be part of a class action?
What state should I file my lawsuit in?
Learn about mesothelioma lawsuits
Compensation
What types of compensation are available for mesothelioma patients?
Can I receive more than one type of mesothelioma compensation?
Are surviving family members eligible to receive compensation?
Learn about mesothelioma compensation
Asbestos Claims
What types of asbestos-related claims are available?
How do I file an asbestos claim?
What deadlines exist for asbestos claims?
Learn about asbestos claims
Statute of Limitations
What is a personal injury statute of limitations?
What is a wrongful death statute of limitations?
How do mesothelioma statutes vary by state?
Learn about statute of limitations
Laws & Regulations
What asbestos safety laws do companies have to follow?
What government agencies regulate the use of asbestos?
Why isn't asbestos banned in the U.S.?
Learn about laws and regulations
Top Mesothelioma Law Firms in the U.S.
After choosing the right doctor, one of the most important decisions you can make is to pick a lawyer who has experience in mesothelioma litigation at every level. The best mesothelioma lawyers work with a nationwide law firm that has access to resources and information that smaller, less experienced law firms may not have.
Early, Lucarelli, Sweeney and Meisenkothen is a national law firm recognized for its representation of over 3,000 hard-working men and women who have been exposed to asbestos and diagnosed with mesothelioma. ELSM's experience in asbestos litigation spans four decades.
At Gori Julian and Associates, P.C., we have handled hundreds of mesothelioma lawsuits on behalf of people throughout the United States. This experience allows us to choose jurisdiction in which to file your case based on many factors including, but not limited to, state of residence, job sites, and previous and current employers.
As one of the nation's leading mesothelioma law firms, Simmons Hanly Conroy has a proven track record. Every mesothelioma lawyer at the firm is committed to helping families affected by mesothelioma and asbestos-related diseases.
Mesothelioma Lawyer Directory
Mesothelioma Lawyer FAQs
Asbestos laws and litigation can be complex. Please note that every individual case is different. To discuss specific questions or concerns with a qualified legal professional, sign up for a free consultation.
When should I hire a mesothelioma lawyer?
If you have recently been diagnosed with mesothelioma, or if a family member recently passed away because of mesothelioma, you should contact an experienced attorney who specializes in asbestos litigation to help you understand your legal rights and discuss the various types of compensation you may be eligible to receive.
Laws that limit the amount of time for filing a mesothelioma claim, known as statutes of limitations, are the reason it is important to contact an experienced attorney right away. It can take some time to research the details that are necessary in order to build your case. Therefore, initiating a working relationship with an attorney as soon as possible is essential in helping you receive the compensation you are entitled to as quickly as possible.
Have a QUESTION? Ask Jennifer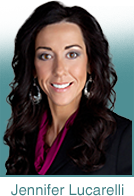 Ask a question and Jennifer will respond to you promptly.
Meet Attorney Jennifer Lucarelli:
Advocate for over 1,000 mesothelioma victims
Knowledge of Navy shipyard asbestos exposure
Well versed in the latest mesothelioma treatment options
Experience with the VA disability claim filing process
How much does it cost to hire a mesothelioma lawyer?
If you hire a reputable law firm, there will be no up-front costs to file a mesothelioma lawsuit. In the vast majority of cases, mesothelioma lawsuits are handled on a contingency fee basis. This means that you will not have to pay anything unless and until you receive compensation owed to you.
Furthermore, experienced lawyers know how to keep costs down, making it more efficient and ultimately better for clients because clients receive a larger amount of compensation than if they went through a less experienced law firm. If you do not have to go to trial, expenses will typically range between 3 – 5% of the total compensation amount.
How long will it take to receive compensation if I hire a lawyer?
Every individual case is different, so unfortunately there is no way to tell exactly how long it might take to receive compensation from a particular claim. It can take months just to gather the appropriate information and documents necessary to simply file a claim. Once the claim is filed, the timeframe to reach a settlement or, if you go to trial, receive a jury award may range from months to years.
An experienced mesothelioma lawyer will be able to provide a realistic idea of how long it may take for you to receive compensation once they know the details of your case. However, it should be understood that the actual timeframe for receiving compensation is an estimate and may be subject to change over the course of the legal proceedings.
Aren't all mesothelioma lawyers the same?
No! Some lawyers that take mesothelioma cases do not have the experience or resources of a nationwide firm. Just because some lawyers can fill out the paperwork required to file a claim in court, that doesn't mean they have the knowledge or proven track record to win compensation for their clients.
Mesothelioma lawsuits can be complex matters, often taking years to be resolved. Having a lawyer who knows the process and understands the stakes involved will keep costs low and help you receive compensation as quickly as possible to help cover treatment costs.
Can a lawyer help me get disability benefits?
Disability benefits are just one of the potential forms of compensation you can receive as a mesothelioma patient. In addition to helping you file paperwork related to disability benefits, an asbestos attorney can help you explore other forms of compensation that may be available to you, including:
Veteran's benefits
Settlements or verdicts from a mesothelioma lawsuit
Claims against an asbestos trust fund
Learn More about the Different Resources Available to You
Financial Help is Available
Cover High Medical Costs
Meet Future Expenses
Asbestos Trust Funds
$32 Billion Set Aside for Mesothelioma Victims
Easy to fill out claim forms
Compensation for Veterans
Social Security Disability Income
State Level Assistance and Grants
The legal process to compensate mesothelioma victims is not overly burdensome and should be strongly considered to help offset treatment costs and to provide financial security for loved ones.
Author: Linda Molinari
Editor in Chief, Mesothelioma Cancer Alliance
Read about Linda
Reviewer: Jennifer R. Lucarelli
Lawyer for Mesothelioma Victims and Their Families
Read about Jennifer