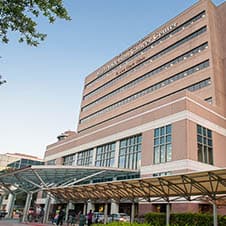 The University of Texas MD Anderson Cancer Center
---
Contact Information
Thoracic Center
1515 Holcombe Boulevard
Main Building, Elevator B Floor 9
Houston, TX 77030
(855) 513-5409
In 1941, the Texas legislature appropriated $500,000 to create a new cancer hospital and research center as part of The University of Texas System. Its original name was the Texas State Cancer Hospital and the Division of Cancer Research, but the following year, the hospital was renamed as the MD Anderson Hospital for Cancer Research of The University of Texas. The new name recognized monetary support from the MD Anderson Foundation, a foundation formed by a Tennessee banker and cotton trader named Monroe Dunaway Anderson.
For its first decade, the hospital operated out of temporary quarters: a converted residence and 46 beds leased in another Houston hospital. The hospital moved to its current location in 1954. That original building, clothed in pink marble, has been preserved and is now the core of a series of more modern buildings that surround it. While the location stayed the same, the hospital's name would change two more times in the coming years: In 1955, its name was changed to the University of Texas MD Anderson Hospital and Tumor Institute at Houston, and in 1988 it became known as The University of Texas MD Anderson Cancer Center, as it remains today.
Since 1944, MD Anderson has served more than 800,000 cancer patients, providing such services as surgery, chemotherapy, radiation therapy and immunotherapy. In 2010, the hospital treated 105,000 cancer patients, about one-third of whom traveled to the hospital from out-of-state. That same year, MD Anderson had approximately 10,000 patients taking part in clinical trials, making it the largest clinical trials program in the United States. The cancer center continues to grow at a very fast rate, increasing its size by 50 percent in the past decade alone. Research is an equally integral part of MD Anderson's work; in 2010, the hospital spent nearly $550 million on research initiatives.
The University of Texas MD Anderson Cancer Center has a Thoracic Center that offers cutting edge multimodal treatment for patients with mesothelioma cancer. The Thoracic Center employs more than 30 mesothelioma specialists that continuously work to develop better, more effective treatment options for the cancer through numerous clinical trials, many of which are only available at MD Anderson. Their research has largely focused on developing new diagnostic techniques to allow for earlier detection, targeted radiation therapy and new targeted agents.
The Thoracic Center utilizes proton therapy, targeted radiation therapy and minimally-invasive video-assisted thoracoscopic surgery (VATS) to provide their patients with the best quality of life and lung function possible. Treatment plans are personalized, based on an individual's particular case, including the stage of cancer and patient age.
The MD Anderson Thoracic Center team which includes medical oncologists, pathologists, pulmonologists, radiation oncologists and surgeons treats the entire patient, not just their mesothelioma. The connection to other areas of care offered at MD Anderson ensures that patients feel supported throughout their entire cancer journey.
Specializations:
Chemotherapy
Extrapleural pneumonectomy (EPP)
Intensity-modulated radiation therapy (IMRT)
Mesothelioma
Mesothelioma clinical trials
Pleurectomy or pleurectomy/decortication (P/D)
Proton therapy
Radiation therapy
Video-assisted thoracoscopic surgery (VATS)
Accreditations:
Best Hospital National Cancer recognition from U.S. News & World Report
Designated Comprehensive Cancer Center
Member of the National Comprehensive Cancer Network
Mesothelioma Clinical Trials at The University of Texas MD Anderson Cancer Center
The following clinical trials are in progress or actively recruiting participants at The University of Texas MD Anderson Cancer Center:
---
Conditions: Adenocarcinoma, Mesothelioma
Last Updated: April 16, 2020
Status: Recruiting
---
Conditions: Lung Neoplasms, Carcinoma, Non-Small-Cell Lung, Mesothelioma, Cholangiocarcinoma
Last Updated: January 9, 2020
Status: Recruiting
Related pages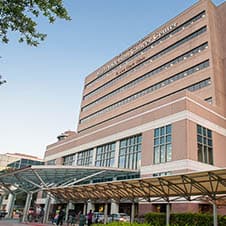 Get Help Contacting The University of Texas MD Anderson Cancer Center
Free
Mesothelioma Treatment Guide
Please fill in the form to request our FREE Mesothelioma Treatment Guide.
It will be sent to you within 24 hours.