Many people love the charm and unique details found in older homes. These houses can also be more affordable upfront which may appeal to new homebuyers.
However, despite these initial benefits, buying an older home can be a risk. Many old homes need maintenance and upgrades. They may also contain several hazardous building materials no longer used in modern construction, such as asbestos.
Asbestos Risks in Older Homes
Asbestos-containing materials were used for decades in residential and commercial construction. Many of these materials, such as asbestos tiles, are safe while in good condition. However, when the products are cut, damaged or deteriorated, they can release harmful asbestos fibers into the air.
In some homes, damaged asbestos construction materials may need to be removed before the home is safe enough to live in. This can add an additional cost to home renovations.
Homeowners will need to hire a licensed professional to safely handle the removal. Only asbestos abatement professionals should remove and dispose of asbestos from an old home.
If removal is completed by the homeowner, the DIYers risk asbestos exposure and related health complications. Asbestos is a known cause of several types of cancer, including lung cancer and mesothelioma.
Buyers should be aware of the possibility of asbestos materials in older homes. For some, the health risks greatly outweigh the charms found in older houses.
Common Places Where Asbestos Is Found in Homes
Heating ducts
Pipes
Flooring
Exterior surfaces
Insulation
Interior surfaces
Electrical equipment
Top Large Cities With Old Homes by Region
As today's homebuyers consider moving to new areas, it can be helpful to identify regions and cities with many older homes. These areas likely have many homes with asbestos. Some may choose to buy these old homes, while others choose to avoid them.
We've listed the top 15 large cities in the United States with the most homes built before the 1940s. These cities are categorized by regions defined by the U.S. Census Bureau.
This list specifically identifies cities with homes built before 1940. However, asbestos was added to many residential construction products until 1980. Thus, many homes built around the turn of the 21st century may still contain dangerous asbestos materials.
Northeast
Overall, states in the Northeast region have more old homes than any other region of the country. For example, 30% of the homes in Massachusetts, Rhode Island and New York were built before 1940.
Unless already renovated, many of these homes contain hazardous building materials that are no longer used in modern construction, including asbestos.
Out of the large cities in the Northeast, the following cities have the most homes built before 1940:
Many homeowners in the Northeast with older homes also have to contend with natural disasters. In recent years, many cities on the East coast have faced hurricanes, heavy snow and the effects of tropical storms.
These natural disasters can cause significant damage to homes. For older homes, weather-related damage may also speed up renovation timelines.
For example, if asbestos products in a home are shifted or exposed due to damage from a storm, they should be removed sooner rather than later to ensure the health and safety of the home's inhabitants. The asbestos should also be handled and removed by a seasoned, licensed professional.
Midwest
The Midwest has its fair share of homes built before 1940. Given the cost of living in the Midwest, these homes are often very affordable as well. However, they may require significant maintenance and updates.
The large cities in the Midwest with the most homes built before 1940 include: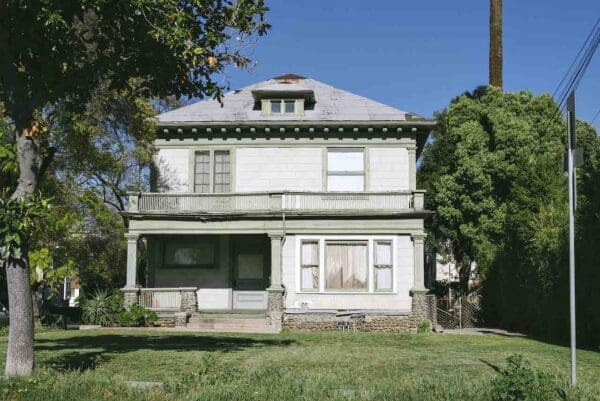 Any home in the Midwest built before 1980 may contain health hazards, such as asbestos.
South
The South has far fewer homes built before 1940 than the Midwest or Northeast. However, there are still older neighborhoods where one can find aged homes.
The large cities in the South with the most homes built before 1940 include:
Southern states on the gulf coast have also been hit by major natural disasters regularly in the past decade. Hazardous debris from destroyed older homes can contaminate the local water supply and surrounding air.
Dangerous materials found in old homes such as asbestos, lead and heavy metals can pose serious health risks to evacuating residents, first responders and clean-up crews.
West
States in the Western region of the country have fewer homes built before 1940. However, any home built before 1980 may contain asbestos materials. This area also faces frequent droughts and wildfires, which may worsen issues. If an older home is destroyed in a forest fire, it can pose serious health risks for clean-up crews.
Dangerous building materials such as asbestos can be exposed during a wildfire. Once exposed, asbestos fibers can travel through the air and cause health problems for anyone in the immediate vicinity. Asbestos fibers can also contaminate the local drinking water, further impacting the health and safety of individuals in the area.
Apart from members of a clean-up crew, this exposure may affect the homeowners, neighbors and first responders. For example, firefighters are among the most at risk of occupational asbestos exposure.
The large cities in the West with the most homes built before 1940 include:
---
As homebuyers in 2021 shop around, they should consider the implications of where the house is, the age of the house and the updates that may be needed for health and safety purposes. These factors can greatly impact a homeowner's experience and quality of life.
Resources for Mesothelioma Patients