Assistance for Veterans With Mesothelioma
Help with VA claims
Veteran treatment centers
Financial Assistance
Fill out our form to get your FREE Guide.
---
"A great resource for veterans and their families."
-Robert J.
---
"A great resource for veterans and their families."
-Robert J.
Mesothelioma & Veterans Guide
---
How veterans were exposed to asbestos
Mesothelioma treatment for veterans
Obtaining financial assistance
Support resources for veterans and families
How Veterans Were Exposed to Asbestos
---
Navy: shipyards and naval ships
Army: sleeping barracks, mess halls and storage facilities
Air force: military base structures, aircraft braking systems
Marines: Naval warships
Mesothelioma Treatment for Veterans
---
Signs, symptoms and getting diagnosed
Locating a VA treatment center
Finding the right doctor for your diagnosis
Get help contacting a mesothelioma expert
Obtaining Financial Assistance
---
Help filing VA benefit claims to secure benefits
Social security disability income
State-level financial assistance
Help from other groups and organizations
Financial security for you and your loved ones
Support Resources for Veterans and Families
---
Transportation to and from appointments
Group support for patients and families
Nutritional guidance and advice
Complementary therapies for pain management
Veteran-Specific Help
---
Information specific to your legal rights
Specialized support for those who have served
Understanding all veteran-specific resources available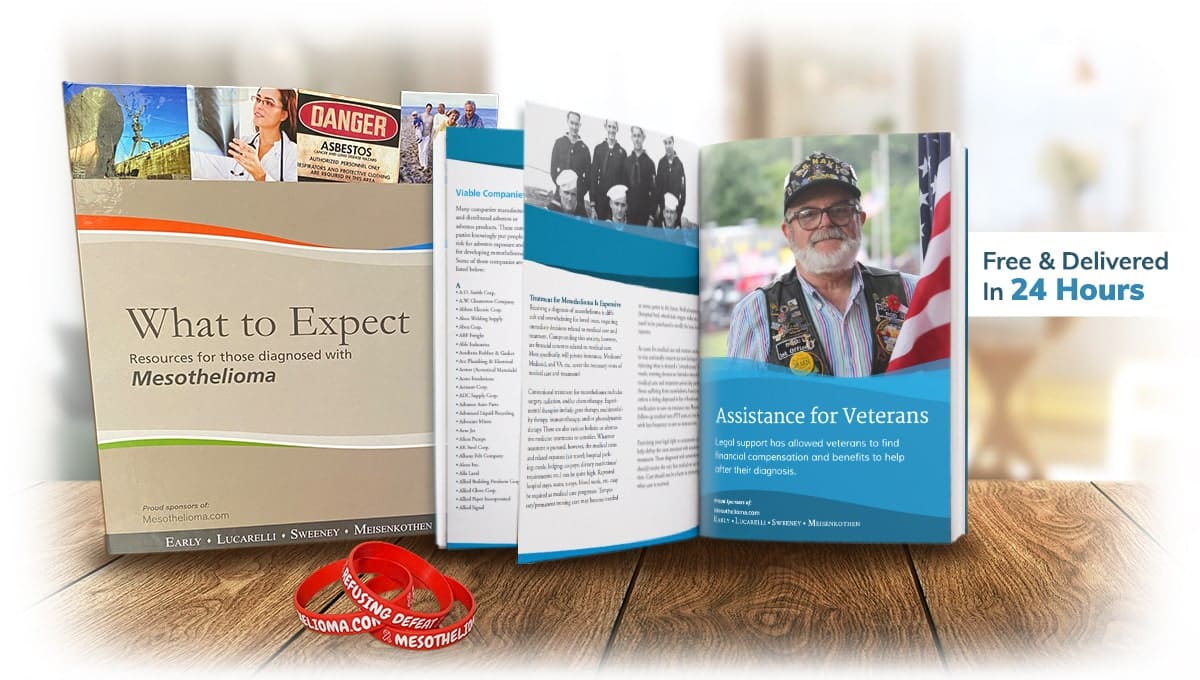 Get the guidance and support you need.
"We were fortunate to have been made aware of your organization and are appreciative
of the guidance and understanding you provided during this most difficult time."
---
-Cal & Marge Stilphen
"In October 1997, I was diagnosed with an extremely rare and deadly cancer called Mesothelioma which attacks the lining of the lungs. It is a medically proven fact that the only way one can contract this cancer is through exposure to asbestos and asbestos-related products. My exposure was proven to be with my experience with my work as a sheet metal worker on outside jobs and also through my experience in the US Navy as a Machinist Mate."
---
– Walter McAdam
Get your free guide today.
Mail My Free Guide