Lexington, Kentucky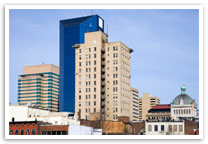 Lexington, which includes all of Fayette County, is the second-largest city in Kentucky and the 63rd largest in the United States. The city occupies 285.5 square miles in the heart of Kentucky's inner Bluegrass Region, and is home to an estimated 295,000 residents. Known as the "Thoroughbred City" and "Horse Capital of the World", the Lexington area is noted for its fertile soil, excellent pastureland, and horse and stock farms. Bluegrass thrives on the limestone beneath the soil's surface, playing a major role in the area's scenic beauty and in the development of champion horses.
The horse industry, Lexington's main industry, generates billions of dollars and provides jobs on the farms, at the sales companies, and at countless businesses which support it. In addition, the horse industry makes Lexington a tourist destination for horse lovers from all around the world, regardless of breed. With its abundance of government and technology jobs, Lexington has one of the nation's most stable economies. Economists have referred to Lexington as having "a fortified economy, strong in manufacturing, technology and entrepreneurial support, benefiting from a diverse, balanced business base". Lexington is a major health care center for Kentucky. Four of the top five payrolls in 2005 were from health care entities – St. Joseph Hospital, Baptist Healthcare, Lexington Clinic and The Department of Veteran Affairs. It is home to the headquarters of Lexmark International, the Kentucky Horse Park, Keeneland race course, Red Mile race course, Transylvania University, the University of Kentucky and Bluegrass Community & Technical College. Traditional products of the area include horses, bourbon, tobacco and handcrafts, but an increasing diversity of products and services contributes to a healthy economy.
We have confirmed that Lexington, Kentucky has numerous jobsites where asbestos exposure occurred over the years. Workers exposed to asbestos containing products have the chance of developing mesothelioma, a malignant cancer. If you or a loved one has been diagnosed with mesothelioma, scroll down to see a list of mesothelioma doctors located in and around Lexington.
Asbestos Exposure at Jobsites in Lexington
The Mesothelioma Cancer Alliance has compiled information obtained from a number of sources to identify the following jobsites in Lexington where asbestos exposure was known to have occurred. These sites are listed below.
American Suppliers Inc
American Water Works & Electric Company
Barr Plant
Blue Grass Park
Bluegrass Insulation
Brown Machine Tool
Bryan Hunt
Burnside Power Plant
Central Baptist Hospital
Chandler Medical Center
Christ the King Church
Cranfill Frey Company
Eastern State Hospital
Federal Corrections Institute
General Electric Company
General Motors
General Telephone
Good Samaritan Hospital
Greyhound Bus Terminal
Heating and Cooling Plant
Henry Clay High School
I.C.I. America
IBM
Individual Drinking Cup Company
Jas. E. Pepper Company and Company
Kentucky Utilities Company
Kentucky Village
Lexington Airport
Lexington Bluegrass Army Depot
Lexington Brewing Company
Lexington Clinic Building
Lexington Hydraulic and Manufacturing Company
Lexington Laundry Company
Lexington Railway Company
Lexington Roller Mills Company
Lexington Sewage Treatment Plant
Lexington Utilities Company
Lexmark
Municipal Housing Comm.
Narcotics Hospital
New Phoenix Company Inc
Nimh Clinical Research Center
North Brothers, Inc.
Old Burley Whse
Owens-Corning Fiberglas Corporation
P. Lorillard Company
Panoply Corp
Phoenix Hotel Company
Proctor and Gamble Manufacturing Company
Schenley Distillers
Square D Company
St. Joseph Hospital
State College of Kentucky
The Phoenix Hotel
University of Kentucky
Utter & Suter
Veterans Administration Hospital
W T Young Storage Company
Ward Corporation
Mesothelioma Cancer Centers near Lexington, Kentucky
For your convenience, we have compiled a list of mesothelioma cancer centers that are located within a 100 mile radius of Lexington, Kentucky. Please click on a cancer center link to obtain more information about the clinical programs offered, professional designations, areas of expertise and how to contact the center.
Mesothelioma Doctors near Lexington, Kentucky
For your convenience, we have compiled a list of mesothelioma doctors that are located within a 100 mile radius of Lexington, Kentucky. Please click on a doctor link to obtain more information about his/her background, areas of expertise, professional affiliations, and office locations.
Dr. Timothy W. Mullett
University of Kentucky College of Medicine
138 Leader Avenue
Lexington, KY 40506
Distance: 0.5 miles
Dr. Edward R. Setser
UK North Fork Valley Community Health Center
750 Morton Blvd.
Hazard, KY 41701
Distance: 88.9 miles
Filing an Asbestos Lawsuit in Lexington, Kentucky
Don't lose your rights! If you or a loved one has been diagnosed with mesothelioma and were exposed to asbestos in Kentucky, you may be entitled to compensation. You may have limited time to file a claim. If you have been diagnosed with mesothelioma and have a pathology report in hand to support that diagnosis, you are eligible for financial assistance.
Asbestos Related News in Kentucky
A 61-year-old man filed a $1 billion lawsuit against Morehead State University for health problems he says resulted from asbestos exposure during his time there.