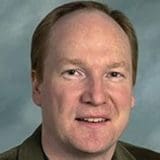 Dr. Goetz H. Kloecker
Medical Oncologist
---
Affiliated Treatment Facilities
Contact Information
James Graham Brown Cancer Center
529 South Jackson Street
Louisville, KY 40202
(502) 562-4673
01. Doctor Overview
Doctor Overview
Dr. Goetz H. Kloecker is a medical oncologist at the University of Louisville James Graham Brown Cancer Center in Louisville, Kentucky. He is the director of the center's thoracic oncology clinic, as well as a professor of medicine at the University of Louisville. In addition to teaching, Dr. Kloecker is the director of the medical oncology/hematology fellowship program at the school.
Dr. Kloecker has over 20 years of experience in diagnosing and treating lung cancer and other lung conditions like pleural mesothelioma. He has authored and co-authored dozens of studies in prestigious scientific and medical journals, like the American Journal of Clinical Oncology. He has participated in clinical trials focused on tumor genetics and immunosuppressive proteins. Dr. Kloecker is also interested in treatment options for mesothelioma like stereotactic radiation therapy.
02. Fast Facts
Doctor Fast Facts
Main Specialty: Medical Oncology
Other Interests & Specialties: Hematology, thoracic cancer, general oncology and medical oncology.
Certifications, Awards & Accolades: American Board of Internal Medicine Certification in Hematology, American Board of Internal Medicine Certification in Internal Medicine, American Board of Internal Medicine Certification in Medical Oncology, member of the American Medical Association, member of American Society of Clinical Oncology (ASCO), member of the Kentucky Medical Association, member of the European Society of Oncology, Regional Top Doctor
Education & Experience:
Residency for Internal Medicine at the University of Louisville
Fellowship for Hematology/Oncology at the University of Louisville
Medical Degree from the Technical University of Munich
03. Publications
Publications
Treatment and outcomes of non-small-cell lung cancer patients with high comorbidity. Cancer Management and Research. January 2018;10:167-175. doi: 10.2147/CMAR.S151935
The role of alectinib in the treatment of advanced ALK-rearranged non-small-cell lung cancer. Expert Review of Anticancer Therapy. December 2016;16(12):1227-1233. doi: 10.1080/14737140.2016.1249857
Lung cancer screening: from imaging to biomarker. Biomarker Research. January 2013;1: 4. doi: 10.1186/2050-7771-1-4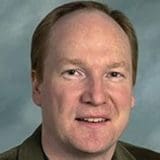 Get Help Contacting Dr. Goetz H. Kloecker