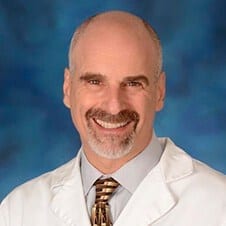 Dr. Joseph S. Friedberg
Head of the Division of Thoracic Surgery and Program Director of Pleural Mesothelioma
---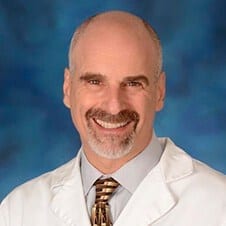 Dr. Joseph S. Friedberg
Head of the Division of Thoracic Surgery and Program Director of Pleural Mesothelioma
---
01. Doctor Overview
Doctor Overview
Dr. Joseph S. Friedberg is head of the Division of Thoracic Surgery at University of Maryland School of Medicine and is at the forefront of the search for treatments for lung cancer and pleural diseases, including mesothelioma. He also serves on the faculty of the University of Maryland School of Medicine as the Charles Reid Edwards Professor of Surgery. Prior to his current position, Dr. Friedberg served as chief of Thoracic Surgery at Penn Presbyterian Medical Center (part of the University of Pennsylvania Health System), was co-director of the Penn Mesothelioma and Pleural Disease Program, and was an associate professor of thoracic surgery at the University of Pennsylvania's Perelman School of Medicine. Dr. Friedberg was recognized by Best Doctors in America for 2009-10 and 2011-12.
Dr. Friedberg is known to perform video thoracoscopic procedures for the treatment of chest diseases such as mesothelioma and is skilled in both open and minimally invasive approaches to cancer surgery. He is a member of numerous medical societies, including the American Association of Thoracic Surgeons, the American College of Chest Physicians and the American Society of Clinical Oncology.
Dr. Friedberg's clinical research is focused on making today's mesothelioma treatments more effective. His laboratory works to develop new treatments that will be applied to patient care immediately or will be applicable within five years. His recent trials include the use of lasers and photodynamic therapy, investigating the combination of surgery and intraoperative PDT on various types of lung cancer, including mesothelioma. Other subjects of Dr. Friedberg's research include the use of "rare earth nanophosphors" for use in diagnostic and therapeutic cancer applications, exploring a new treatment combination for mesothelioma that would combine PDT and novel chemotherapeutic agents, the development of an "artificial lung" for reversible lung failure and the development of a system that would identify areas of the lungs that leak air at the time of surgery.
02. Fast Facts
Doctor Fast Facts
Main Speciality: Thoracic Surgery
Other Interests & Specialties: General cardiac/thoracic Surgery, mesothelioma, pleural mesothelioma, pleural malignancies and disorders, complex lung cancer, chest wall tumors, pulmonary metastasis, malignant pleural effusions, Diaphragm Disorders, pneumothorax, effective treatments for lung cancer and photodynamic therapy.
Certifications, Awards & Accolades: American Board of Surgery Certification in Surgery, American Board of Thoracic Surgery Certification in Thoracic and Cardiac Surgery, head of the Division of Thoracic Surgery at the University of Maryland School
Education & Experience:
03. Publications
Publications
National Cancer Database Report on Pneumonectomy Versus Lung-Sparing Surgery for Malignant Pleural Mesothelioma. Journal of Thoracic Oncology. November 2017;12(11):1704-1714. doi: 10.1016/j.jtho.2017.08.012
Extended Pleurectomy-Decortication-Based Treatment for Advanced Stage Epithelial Mesothelioma Yielding a Median Survival of Nearly Three Years. The Annals of Thoracic Surgery. March 2017;103(3):912-919. doi: 10.1016/j.athoracsur.2016.08.071
Pilot and Feasibility Trial Evaluating Immuno-Gene Therapy of Malignant Mesothelioma Using Intrapleural Delivery of Adenovirus-IFNα Combined with Chemotherapy. Clinical Cancer Research. August 2016;22(15):3791-800. doi: 10.1158/1078-0432.CCR-15-2133
Changing clinical course of patients with malignant mesothelioma: Implications for FNA cytology and utility of immunocytochemical staining. Diagnostic Cytopathology. May 2001;24(5):322-327.
A phase I study of Foscan-mediated photodynamic therapy and surgery in patients with mesothelioma. Annals of Thoracic Surgery. March 2003; 75(3):952-959.
Elevated serum cytokine levels in mesothelioma patients who have undergone pleurectomy or extrapleural pneumonectomy and adjuvant intraoperative photodynamic therapy. Photochemistry and Photobiology. July 2003;78(1):75-81.
Gene expression profiling of malignant mesothelioma. Clinical Cancer Research. August 2003;9(8):3080-3097.
Multicenter phase II trial of neoadjuvant pemetrexed plus cisplatin followed by extrapleural pneumonectomy and radiation for malignant pleural mesothelioma. Journal of Clinical Oncology. June 2009;27(18):3007-3013. doi: 10.1200/JCO.2008.20.3943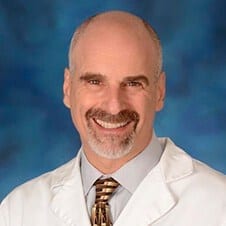 Get Help Contacting Dr. Joseph S. Friedberg
Free
Mesothelioma Treatment Guide
Please fill in the form to request our FREE Mesothelioma Treatment Guide.
It will be sent to you within 24 hours.