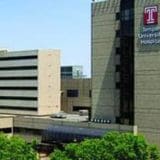 ---
Doctors Affiliated with this Treatment Facility
Contact Information
Temple University Hospital
3401 North Broad Street
Philadelphia, PA 19140
(800) 836-7536
01. History
History of Temple Lung Center
The Temple University Hospital started as a three-story house on North Broad Street, directed by Dr. Russell Conwell who was named the president of the care facility. On January 18, 1892, the house was purchased and refurbished to serve as a hospital. With 20 hospital beds, the facility was open to accommodate patients from all walks of life. All services were free of charge in order to accommodate individuals who were unable to afford the payment. Over a year later, the hospital is now well-known for its cancer care.
02. Mesothelioma Care
Mesothelioma Care at Temple Lung Center
Temple University Hospital offers treatment for mesothelioma cancer at their Temple Lung Center. Their medical team uses a multidisciplinary approach to give patients a full range of treatment options to choose from.
Temple Lung Center strives to treat mesothelioma patients with techniques as least invasive as possible, combining surgeries with chemotherapy and radiation therapy. If patients do require invasive surgery, Temple Lung Center has experience performing radical procedures. They also practice systemic therapies like immunotherapy, alongside interventional pulmonology for patients with pleural mesothelioma.
If patients are interested in clinical trials, there are mesothelioma clinical trials offered at Temple Lung Center. Some of their experimental treatments are solely offered at their cancer center, as they pioneer the latest treatment options for mesothelioma cancer.
Temple Lung Center also offers Nurse Navigators. Nurse Navigators help patients understand their diagnosis, test results and treatment options, while answering any questions that they might have before and during their treatment journey. For mesothelioma survivors, there are additional resources available, including mesothelioma diet counseling, pastoral care, physical medicine and rehabilitation, social work, speech pathology, support groups, stress management and wigs.
03. Specializations
Temple Lung Center Specializations
Interventional pulmonology
Lung-sparing treatment options
Mesothelioma
Radiation therapy
Surgery
Systemic therapy
04. Accreditations
Temple Lung Center Accreditations
American Nurses Credentialing Center Magnet Recognized
Blue Distinction Center
CEO Cancer Gold Standard
Commission on Cancer accreditation
National Cancer Institute Comprehensive Cancer Center designation
National Comprehensive Cancer Center Network designation
Philadelphia Magazine's Top Doctors Award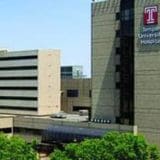 Get Help Contacting Temple Lung Center