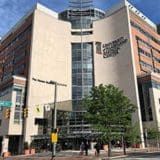 University of Maryland Marlene and Stewart Greenebaum Comprehensive Cancer Center
---
Doctors Affiliated with this Treatment Facility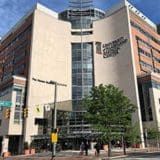 University of Maryland Marlene and Stewart Greenebaum Comprehensive Cancer Center
---
Doctors Affiliated with this Treatment Facility
01. History
History of University of Maryland Marlene and Stewart Greenebaum Comprehensive Cancer Center
While the Greenebaum Cancer Center received its National Cancer Institute designation in 2008, its involvement with the government institute began much earlier. In 1965, the early days of chemotherapy, the NCI founded an intramural program in the Division of Cancer Treatment located at the U.S. Public Health Service Hospital in Baltimore. The 40-bed program was created as a home for NCI research activities and was called the Baltimore Cancer Research Center of the NCI. Many important studies were conducted there in an effort to find a cure for the disease.
In 1976, the Baltimore Cancer Research Center was relocated to the University of Maryland School of Medicine, and in 1978 it was renamed the Baltimore Cancer Research Program. The program separated from the federal government in 1981 and became the University of Maryland Cancer Center. In 1996, the center was renamed again, this time to the University of Maryland Greenebaum Cancer Center. The name is a nod to Marlene Greenebaum, a breast cancer survivor, and her husband Stewart, who had donated $10 million to the cancer hospital.
The Greenebaum Cancer Center offers a range of top-of-the-line technology designed to detect and treat cancer, which has led to the center receiving the highest ranking in the technology category from U.S. News & World Report, as well as a survival rate of "much better than expected."
02. Mesothelioma Care
Mesothelioma Care at University of Maryland Marlene and Stewart Greenebaum Comprehensive Cancer Center
The University of Maryland Medical Center offers treatment for pleural mesothelioma at their Mesothelioma and Thoracic Oncology Treatment and Research Center. The center is one of few in the world with several highly experienced mesothelioma experts on staff. They take a multidisciplinary approach to treating pleural mesothelioma to find the best treatment solutions for patients.
The experts at the University of Maryland Medical Center combine their expertise in surgery, radiation therapy, pulmonary and integrative medicine, pathology and palliative care to deliver customized treatment plans. The center also offers clinical trials for pleural and peritoneal mesothelioma. Although not all patients are suited for clinical trials, the team will help to determine if the opportunity is right for the patient.
The Mesothelioma and Thoracic Oncology Treatment and Research Center also offers a mesothelioma nurse who coordinates appointments with doctors in different areas of expertise, as well as communicates with patients' health insurance providers to create an easy and convenient experience amidst the complex treatment that is required for mesothelioma patients. The Greenebaum Cancer Center also offers a staff of social workers and psychologists who are experienced with the special needs of cancer patients and their families. Social workers may also put newly diagnosed patients in touch with other patients who have gone through a similar type of cancer and treatment. This bond can help make the process less stressful by allowing patients to learn from others who have been through the process before.
03. Specializations
University of Maryland Marlene and Stewart Greenebaum Comprehensive Cancer Center Specializations
Chemotherapy
Radiation therapy
Surgery (extended pleurectomy-decortication)
Tri-modality therapy
Proton therapy
04. Accreditations
University of Maryland Marlene and Stewart Greenebaum Comprehensive Cancer Center Accreditations
Commission on Cancer (CoC) accreditation
National Cancer Institute (NCI) Comprehensive Care Center
Ranked Top 50 National Best Hospitals for Cancer by U.S. News & World Report
05. Mesothelioma Clinical Trials
Mesothelioma Clinical Trials at University of Maryland Marlene and Stewart Greenebaum Comprehensive Cancer Center
The following clinical trials are in progress or actively recruiting participants at University of Maryland Marlene and Stewart Greenebaum Comprehensive Cancer Center:
---
Conditions: Mesothelioma
Last Updated: June 26, 2021
Status: Recruiting
---
Conditions: Mesothelioma
Last Updated: January 5, 2021
Status: Recruiting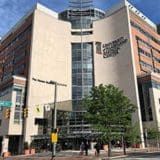 Get Help Contacting University of Maryland Marlene and Stewart Greenebaum Comprehensive Cancer Center