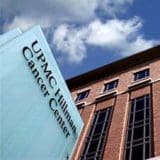 UPMC Hillman Cancer Center
---
Doctors Affiliated with this Treatment Facility
Contact Information
5115 Centre Avenue
Pittsburgh, PA 15232
(412) 692-4724
01. Mesothelioma Care
Mesothelioma Care at UPMC Hillman Cancer Center
The Mesothelioma Specialty Care Center of UPMC Cancer Centers treats mesothelioma cancer with experts in thoracic surgery, pulmonology, pathology, radiology, pain management and medical and radiation oncology.
The center treats patients diagnosed with epithelioid, sarcomatoid and mixed or biphasic mesothelioma. A care team will assess the cancer through immunohistochemistry, and sample the affected tissue to determine the necessary treatment plan. Specialized treatments, such as hyperthermic intraperitoneal chemotherapy (HIPEC), are used to apply chemotherapy directly to the tumor for patients with peritoneal mesothelioma. Treatments such as pleurectomy and peritonectomy may also be utilized in treatment at UPMC to remove part of the pleura or lining of the abdomen, depending on where the mesothelioma cancer is found. The center also offers the latest advancements in radiation treatments with intensity-modulated radiation therapy (IMRT) and 4D computed tomography to allow for the more targeted treatment with fewer side effects.
Services such as pain management, palliative care, psychological services and social work are available to patients who are diagnosed with mesothelioma. Their sleep clinic can help patients to help them combat cancer-related sleep issues. Clinical trials are also available to patients who are qualified to participate.
02. Specializations
UPMC Hillman Cancer Center Specializations
Chemotherapy or other medical oncology therapy
Clinical trials
Radiation oncology
Surgery
03. Accreditations
UPMC Hillman Cancer Center Accreditations
American College of Radiation Oncology (ACRO) accreditation
Commission on Cancer (CoC) accreditation
National Best Hospitals by U.S. News & World Report
National Cancer Institute (NCI) Comprehensive Cancer Center
Quality Oncology Practice Initiative (QOPI) accreditation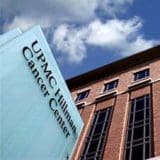 Get Help Contacting UPMC Hillman Cancer Center