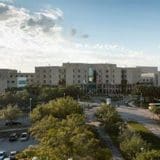 ---
Doctors Affiliated with this Treatment Facility
Contact Information
Magnolia Campus
12902 USF Magnolia Drive
Tampa, FL 33612
(888) 663-3488
01. History
History of the Moffitt Cancer Center
Founded in 1986, the H. Lee Moffitt Cancer Center & Research Institute is a nonprofit cancer treatment center located on the Tampa campus of the University of South Florida. It is the primary cancer treatment center affiliated with the University of South Florida College of Medicine. Moffitt, a National Cancer Institute Comprehensive Cancer Center, offers 13 specially designed clinical programs for the treatment of various types of cancers.
The Moffitt Cancer Center is named after H. Lee Moffitt, a former Florida state representative and cancer survivor who in 1978 started pushing to bring a cancer center to the Tampa area. At the time, statistics showed that more than 14,000 new cancer cases were expected each year within a 100-mile radius of Tampa. Moffitt was shocked by these numbers, and worked with University of South Florida College of Medicine Dean Andor Szentivanyi to get the community and state legislature on board with the new cancer center. After eight years of work, the 162-bed, $70 million cancer center was dedicated in October 1986. It was named after Moffitt, who by then was serving as Speaker of the Florida State of Representatives.
In 1990, the Moffitt Cancer Center acquired a nearby Research Center building, which allowed the facility to put more emphasis on research activities. Researchers at the new center aimed to make medical advances that could very quickly be utilized with patients. After receiving $12 million in funding from the state of Florida, the 100,000-square-foot Moffitt Research Center opened its doors in 1995. Expansions in 1999 and 2003 nearly doubled the research center's size and allowed it to greatly expand its operations.
The H. Lee Moffitt Cancer Center's mission is to contribute to the prevention and cure of cancer, and also "to be a leader in scientific discovery and translation into compassionate care, cures, and prevention of cancer for our community and the world." That is, the cancer center seeks to be at the forefront of curing cancer and also utilizing that research at the patient's bedside.

02. Mesothelioma Care
Mesothelioma Care at the Moffitt Cancer Center
Today, the Moffitt Cancer Center is dedicated to treating and researching a variety of cancers, including malignant mesothelioma. They have a dedicated Mesothelioma Treatment and Research Center that diagnoses and treats all types of mesothelioma, including pleural, peritoneal and pericardial mesothelioma.
The Mesothelioma Treatment and Research team uses a multidisciplinary approach, pulling members of all prominent departments to create tailored treatment plans for the patient's specific situation. Treatments often include surgery, chemotherapy and radiation therapy, but Moffitt Cancer Center also utilizes novel treatment types like immunotherapy, cancer vaccines and other emerging treatment options.
Patients do not need a referral to seek care from the Mesothelioma Treatment and Research Center, so all patients are able to explore their options for treatment and potentially engage in specialized mesothelioma clinical trials.
03. Specializations
Moffitt Cancer Center Specializations
Chemotherapy
Experimental treatments
Immunotherapies
Pericardial mesothelioma
Peritoneal mesothelioma
Pleural mesothelioma
Radiation therapy
Surgery
04. Accreditations
Moffitt Cancer Center Accreditations
National Cancer Institute (NCI) designation
National Comprehensive Cancer Network member
05. Mesothelioma Clinical Trials
Mesothelioma Clinical Trials at the Moffitt Cancer Center
The following clinical trials are in progress or actively recruiting participants at Moffitt Cancer Center:
06. Hospital Services
Patient and Family Services at the Moffitt Cancer Center
The Moffitt Cancer Center offers many support resources for patients and family members, including their Vitality Clinic. This unique clinic brings practitioners from several disciplines together in a single location to cover important patient care issues such as mesothelioma nutrition, physical therapy and supportive care. Some additional resources include:
07. Offsite Services in Tampa
Patient and Family Services in the Tampa Area
The Moffitt Cancer Center is located in the major metropolitan area of Tampa. As a result, many services are easily accessible for mesothelioma patients and their families during or after treatment. These offsite services include counseling, hospice care, housing and pain clinics.
Post-Surgical Rehabilitation
Stress Management Programs
Survivor Wellness Programs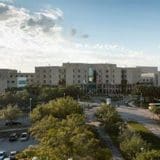 Get Help Contacting Moffitt Cancer Center