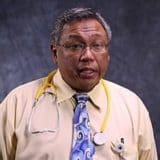 Dr. Eric Toloza
Thoracic Surgeon
---
Affiliated Treatment Facilities
Contact Information
Magnolia Campus
12902 USF Magnolia Drive
Tampa, FL 33612
(888) 663-3488
01. Doctor Overview
Doctor Overview
Dr. Toloza is a thoracic oncologist currently practicing at H. Lee Moffitt Cancer Center. In addition to his full-time role in the thoracic oncology department, Dr. Toloza also serves as an Associate Professor of Surgery and an Associate Professor of Oncologic Sciences in the University of South Florida Morsani College of Medicine.
Dr. Toloza continues to build his expertise in relation to thoracic surgeries, with a particular interest in mesothelioma and other lung cancers. He has been involved with research into aggressive multimodal treatments and certified to perform robotic-assisted surgeries as well as a navigational bronchoscopy.
To share his expertise and knowledge with others in the field, Dr. Poloza has authored and co-authored articles, book chapters and books, while continuing to participate in clinical research programs.
02. Fast Facts
Doctor Fast Facts
Main Specialty: Thoracic Surgery
Other Interests & Specialties: Lung cancers, mesothelioma, multimodal treatments, treatment of mediastinal and chest wall masses, pulmonary metastases, robotic-assisted thoracic surgeries and navigational bronchoscopy.
Certifications, Awards & Accolades: American Board of Surgery Diplomat, American Board of Thoracic Surgery Diplomat, named one of Castle Connolly's Regional Top Doctors, ACS Fellow
Education & Experience:
Medical Degree from UCLA School of Medicine
Residency in Cardiothoracic Surgery at the Texas Heart Institute
Fellowship with the Medical Scientist Fellow Program at UCLA School of Medicine
Fellowship in Surgical Oncology at the UCLA School of Medicine
Fellowship in Thoracic Surgical Oncology at the University of Texas MD Anderson Center
03. Publications
Publications
Vaccines for Lung Cancer. Handbook of Cancer Vaccines. 505-512.
Optimal Management of Malignant Pleural Effusions (Results of CALGB 30102). Journal of the National Comprehensive Cancer Network. August 2012;10(8). doi: 10.6004/jnccn.2012.0102
Pulmonary metastasectomy for suspected pancreaticobiliary cancer. The Journal of Thoracic and Cardiovascular Surgery. July 2016;152(1):75-82. doi: 10.1016/j.jtcvs.2016.02.066
Stable Expression of the Wild-Type p53 Gene in Human Lung Cancer Cells after Retrovirus-Mediated Gene Transfer. Human Gene Therapy. March 2008;4(5). doi: 10.1089/hum.1993.4.5-617
Thoracoscopic Talc Versus Tunneled Pleural Catheters for Palliation of Malignant Pleural Effusions. The Annals of Thoracic Surgery. October 2012;94(4):1053-1059. doi: 10.1016/j.athoracsur.2012.01.103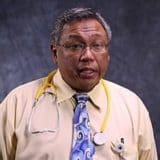 Get Help Contacting Dr. Eric Toloza