People diagnosed with mesothelioma who live in Wisconsin have access to a number of quality health care options. Conventional mesothelioma treatments available in Wisconsin include surgery, chemotherapy and radiation. Beyond these conventional treatments, clinical trials may currently be recruiting pleural and peritoneal mesothelioma patients. Experimental and alternative treatments may also be available.
We have listed top mesothelioma doctors who practice in Wisconsin as well as the top cancer care centers in the state. A number of local cancer support services have been included as well for your convenience. Read more about health care options available in Wisconsin below.
01. Statistics
---
Wisconsin Mesothelioma Statistics
1,083 mesothelioma deaths (1999 – 2015)
132 asbestosis deaths (1999 – 2015)
1,215 total deaths (1999 – 2015)
02. Cancer Centers
Mesothelioma Cancer Centers in Wisconsin
For your convenience, we have compiled a list of mesothelioma cancer centers that are located in Wisconsin. Please click on a cancer center link to obtain more information about the clinical programs offered and how to contact the cancer center.
Wisconsin Mesothelioma Cancer Clinics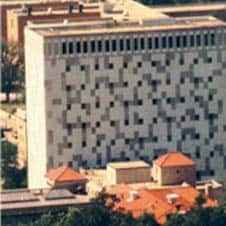 McArdle Laboratory for Cancer Research
Madison, WI 53706
University of Wisconsin Carbone Cancer Center
Madison, WI 53792
03. Doctors
Find a Mesothelioma Doctor in Wisconsin
The following mesothelioma doctors are located and practice in the state of Wisconsin. Click on the doctor's name to obtain more information about their background, areas of expertise, professional affiliations, and office locations.
Wisconsin Mesothelioma Doctors
David Johnstone, M.D.
Cardiothoracic Surgeon
Milwaukee, WI
H. Ian Robins, M.D.
Medical Oncologist
Madison, WI
Occasionally, mesothelioma patients will travel to other states to meet with top mesothelioma doctors and thoracic surgeons across the country. These experts will usually concentrate on a particular mesothelioma type within their practice.
04. Clinical Trials
Mesothelioma Clinical Trials in Wisconsin
The following clinical trials are in progress or actively recruiting participants in the state of Wisconsin:
---
Conditions: Neoplasms, Multiple Myeloma, Pancreatic Neoplasms, Esophageal Neoplasms, Endometrial Neoplasms, Thyroid Neoplasms, Mesothelioma, Neuroendocrine Tumors, Salivary Gland Neoplasms, Anus Neoplasms, Gallbladder Neoplasms, Bile Duct Neoplasms, Oropharyngeal Neoplasms, Nasopharyngeal Neoplasms, Nasopharyngeal Carcinoma, Vaginal Neoplasms, Urethral Neoplasms, Laryngeal Neoplasms, Mouth Neoplasms, Adenomatous Polyposis Coli, Colorectal Neoplasms, Hereditary Nonpolyposis, Testicular Neoplasms, Intestinal Neoplasms, Hypopharyngeal Neoplasms, Penile Neoplasms, Ureteral Neoplasms, Neoplasms, Plasma Cell, Peritoneal Neoplasms, Paranasal Sinus Neoplasms, Duodenal Neoplasms, Neoplasms, Unknown Primary, Lip Neoplasms, Thymus Neoplasms, Paraproteinemias
Last Updated: November 10, 2020
Status: Recruiting
Locations: Colorado Springs, CO. Denver, CO. Durango, CO. Lakewood, CO. Littleton, CO. Longmont, CO. Louisville, CO. Parker, CO. Pueblo, CO. Westminster, CO. Daytona Beach, FL. DeLand, FL. Orange City, FL. Palm Coast, FL. Aurora, IL. Moline, IL. Yorkville, IL. Fort Wayne, IN. Indianapolis, IN. Indianapolis, IN. Indianapolis, IN. Kokomo, IN. Council Bluffs, IA. Davenport, IA. Spencer, IA. Waterloo, IA. Overland Park, KS. New Orleans, LA. Portland, ME. Randallstown, MD. Westminster, MD. Holyoke, MA. Ann Arbor, MI. Aitkin, MN. Brainerd, MN. Duluth, MN. Duluth, MN. Fergus Falls, MN. Marshall, MN. Joplin, MO. Kansas City, MO. Kansas City, MO. Kansas City, MO. Liberty, MO. Saint Joseph, MO. Kalispell, MT. Missoula, MT. Hastings, NE. Norfolk, NE. North Platte, NE. O'Neill, NE. Omaha, NE. Omaha, NE. Omaha, NE. Scottsbluff, NE. Glens Falls, NY. Utica, NY. Fayetteville, NC. Fargo, ND. Minot, ND. Pittsburgh, PA. Aberdeen, SD. Mitchell, SD. Sioux Falls, SD. Sioux Falls, SD. Yankton, SD. Yankton, SD. Yankton, SD. Rutland, VT. Fredericksburg, VA. Appleton, WI. Brookfield, WI. Franklin, WI. Mequon, WI. Milwaukee, WI. Oshkosh, WI. Racine, WI. Wauwatosa, WI.
---
Conditions: Lymphoma, Carcinoma, Prostatic Neoplasms, Melanoma, Carcinoma, Squamous Cell, Leukemia, Myeloid, Acute, Ovarian Neoplasms, Lymphoma, Non-Hodgkin, Carcinoma, Hepatocellular, Stomach Neoplasms, Uterine Cervical Neoplasms, Esophageal Neoplasms, Mesothelioma, Squamous Cell Carcinoma of Head and Neck, Carcinoma, Adenoid Cystic, Pancreatic Neoplasms, Thymoma, Lung Neoplasms
Last Updated: May 18, 2020
Status: Recruiting
Locations: Duarte, CA. Morristown, NJ. Milwaukee, WI.
05. Support Services
Find Cancer Support Services in Wisconsin
Cancer support services for mesothelioma patients include patient transport, temporary housing, physical therapy and counseling. The following local services may be of help to you while you are receiving treatment for mesothelioma in Wisconsin.
Wisconsin Treatment Support Services
Counseling & Support Groups

Marshfield Clinic


(Wisconsin Rapids)
800-782-8581, ext 75601

Aurora Health Care


(Milwaukee)
888-863-5502

UW Health/Carbone Cancer Center


(Madison)
608-262-5223

Long-Term Housing

Home Networks LLC

(Madison)

800-516-7356

Biz-stay

(Statewide)

877-603-4409

Home Networks LLC

(Milwaukee)

800-516-7356

Patient Transport

Tender Care Transport

(Eau Claire)

715-835-2435
Transtar Medical Transport

(Campbellsport)

800-972-8080 920-533-3800

MTM

(Madison)

866-907-1493

Choice Care Transport

(Milwaukee)

414-393-1944

Physical Therapy

Capitol Physical Therapy

(Madison)

608-848-6628

Pro Health Care

(Waukesha)

262-696-0765

PT Plus

(Milwaukee)

414-292-3275
Other Resources for Mesothelioma Patients in Wisconsin
Asbestos Exposure and Mesothelioma in Wisconsin

Legal Options in Wisconsin