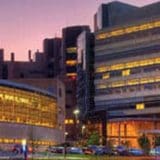 University of Wisconsin Carbone Cancer Center
---
Doctors Affiliated with this Treatment Facility
Contact Information
600 Highland Avenue
Madison, WI 53792
(608) 263-8600
01. Mesothelioma Care
Mesothelioma Care at the University of Wisconsin Carbone Cancer Center
The Carbone Cancer Center at the University of Wisconsin treats mesothelioma with their multidisciplinary team of pulmonologists, integrative health experts and thoracic, medical and surgical oncologists. They treat more than 400 patients a year with their leading-edge technology and treatment methods.
As Wisconsin's only comprehensive cancer center, Carbone offers diagnostic testing like CT-guided technology for needle localization, as well as bronchoscopy and mediastinoscopy, which help to determine the staging of lung cancers. The center specializes in treatments such as chemotherapy, radiation therapy and minimally invasive surgeries like video-assisted thoracoscopic surgery, and methods of treatment are determined by the team of experts at The Carbone Cancer Center. Palliative lung procedures are also available, including treatment for pleural effusions, which is a common symptom of mesothelioma.
The center has a Lung Cancer Task Force, who works to raise funds for the research programs at the Carbone Cancer Center. Their clinical trials and research include groundbreaking treatment options that may not be available at other hospitals. More than 250 clinical trials are available for enrollment at the center, and the team of physicians can assess patient cases and help them decide if emerging treatment options are a viable route.
02. Specializations
The University of Wisconsin Carbone Cancer Center Specializations
Chemotherapy
Endobronchial stents
Lung surgery
Palliative lung procedures
Photodynamic therapy (PDT)
Radiation therapy
Video-assisted thoracoscopic surgery (VATS)
03. Accreditations
The University of Wisconsin Carbone Cancer Center Accreditations
National Cancer Institute (NCI) Comprehensive Cancer Center
Gold Seal of Approval from the Joint Commission
04. Mesothelioma Clinical Trials
Mesothelioma Clinical Trials at the University of Wisconsin Carbone Cancer Center
The following clinical trials are in progress or actively recruiting participants at the University of Wisconsin Carbone Cancer Center:
Sorry, there are no clinical trials to display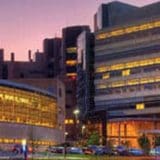 Get Help Contacting University of Wisconsin Carbone Cancer Center