Mesothelioma Doctors, Lawyers and Asbestos Exposure in San Bernardino, California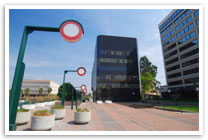 The City of San Bernardino is the county seat of San Bernardino, California. Located on the Santa Ana River in a region known as the "Inland Empire", San Bernardino has a current population of nearly 210,000. San Bernardino's natural springs and broad valley floor have seen a variety of uses over the years, from fruit orchards and a spa resort, to an Air Force base and logistics center. Today, education and municipal government are the city's largest economic sectors, with top employers including the University of California, San Bernardino, the City of San Bernardino and St. Bernardine Medical Center. In recent years, San Bernardino has begun to develop as an intermodal transport center, attracting freight companies and distribution warehouses.
San Bernardino's first major settlement was established in 1851 by a group of Mormons, who were recalled to Salt Lake City in 1857. The city continued to develop, and in 1864, the first spa resort was constructed at Arrowhead Hot Springs. It and several subsequent hotels were destroyed by fire, but the springs grew in popularity through the 1940s. The fourth and current hotel was built in 1939, and was used as a naval hospital during World War II. Today, the hotel is a used as a conference center. The first railroads arrived in 1883, increasing access to local markets and boosting the local fruit-growing industry. In 1893, the Southern California State Asylum for the Insane and Inebriates began treating patients. It was renamed Patton State Hospital in 1927, and continues to operate under that name. Norton Air Force Base operated from 1942 through 1995 and is currently home to the San Bernardino International Airport along with several distribution centers and industrial buildings.
San Bernardino has a diverse history of construction and industry, making asbestos exposure an ongoing concern. Workers exposed to asbestos may be at risk for asbestos cancer. For your convenience, we have listed mesothelioma cancer centers located in or near San Bernardino at the bottom of this page. Mesothelioma lawyers may also be able to assist you if you or a loved one were exposed to asbestos in San Bernardino.
Other Asbestos Sites in San Bernardino, California
The Mesothelioma Cancer Alliance has compiled information obtained from a number of sources to identify the following jobsites in San Bernardino where asbestos exposure was known to have occurred. These sites are listed below.
Arrowhead Spring Hotel
Atchison, Topeka & Santa Fe Railroad
Atlas Firebrick Company
Burlington Northern Railroad
California Electric Power Company
California Electric Power Company
California Highway Patrol
California State College
Center Mall
Colton Cement
Gate City Ice and Pre Cooling Company
Inland Tire Center
Interpace
Jc Penney
K Mart
Kaiser Hospital
Koppers Company
Murray Marsh
Norton Air Force Base
Owens Corning Fiberglas
Owens-Corning Fiberglas Corporation
Pacific Fruit Express
Patton State Hospital
San Bernandino Juvenile Hall
San Bernardino City High School
San Bernardino County Hospital
San Bernardino Courthouse
San Bernardino High School
San Bernardino Laundry
San Bernarino City Hall
Santa Fe Rr Company
Sears Job, Mill & E Sts. Team Track
Sewage Treatmt Plant
Sierra Building Matls
Southern California Edison
Southern Service Company, Ltd.
Southern Sierras Power Company
St Bernardines Hospital
State College, Central Heat & Air Condition Building
State Insane Asylum
Valley Linen Supply
Zarubica Company
San Bernardino, California Mesothelioma Doctors
We have compiled a list of mesothelioma doctors that practice within a 100-mile radius of San Bernardino, California. Click on a specific doctor link to obtain more information about their areas of expertise, background, professional affiliations, and office locations.
Contact a Cancer Center near San Bernardino, California
If you need help getting an accurate diagnosis or developing a treatment plan, the following mesothelioma cancers near San Bernardino, California have the resources available to assist you. More detailed information about each cancer center is available by clicking on the appropriate cancer center detail link.
Cancer Support Services Near San Bernardino
While receiving treatment, mesothelioma patients may find a need for temporary lodging, patient transport, physical therapy or counseling. We have compiled a list of these cancer support services near San Bernardino, California for your convenience.
California Treatment Support Services
Counseling & Support Groups

Center for Cancer Counseling


(Newport Beach)
949-474-4337
Distance: 47.9 miles

Simonton Cancer Center


(Malibu)
800-459-3424
Distance: 76.7 miles

Long-Term Housing

Grandma's House of Hope


(Santa Ana)
714-833-5333
Distance: 40.4 miles

Orange County Ronald McDonald House


(Orange)
714-639-3600
Distance: 41.4 miles

Patient Transport

TLC Medical Transport


(Orange County)
949-830-7433
Distance: 40.8 miles

TLC Medical Transport


(San Diego)
619-284-7433
Distance: 54.7 miles

Ambiance Medical Transportation


(Sun Valley)
818-955-5757
Distance: 59.9 miles
Physical Therapy

City of Hope


(Duarte)
626-256-4673, ext 63339
Distance: 37.5 miles

St. Jude Crosson Cancer Institute


(Fullerton)
714-871-3280
Distance: 38.4 miles

Progressive Physical Therapy and Rehab


(Orange)
714-547-1140
Distance: 41.4 miles

Progressive Physical Therapy and Rehab


(Costa Mesa)
949-631-0125
Distance: 49.2 miles

Disney Family Cancer Center Oncology Rehabilitation Department


(Burbank)
818-748-4751
Distance: 59.9 miles

Cedars-Sinai Medical Center


(Los Angeles)
310-423-9290
Distance: 61.7 miles
Filing an Asbestos Lawsuit in San Bernardino, California
If you or a loved one has been diagnosed with mesothelioma and were exposed to asbestos at a commercial, residential or military site in San Bernardino, California, you may be entitled to compensation. Don't lose your right to file a claim. You must act quickly and file your claim within the appropriate statute of limitations for the state of California.
Asbestos Law Firms Servicing San Bernardino, California
Dean, Omar & Branham, LLP is a law firm dedicated to using the legal profession to make our community safer. When someone is badly hurt because someone else did not act reasonably, we are here to help provide whatever justice the legal system can give the family who has been wronged.
Early, Lucarelli, Sweeney and Meisenkothen is a national law firm recognized for its representation of over 3,000 hardworking men and women who have been exposed to asbestos and diagnosed with mesothelioma. ELSM's experience in asbestos litigation spans four decades.
At Gori Julian and Associates, P.C., we have handled hundreds of mesothelioma lawsuits on behalf of people throughout the United States. This experience allows us to choose jurisdiction in which to file your case based on many factors including but not limited to state of residence, jobsites, and previous and current employers.
The lawyers of Kaiser Gornick LLP in San Francisco have extensive experience handling mesothelioma claims. We have obtained substantial compensation for our clients in successful verdicts and settlements.
Since its founding in 1974, Kazan Law has represented thousands of people suffering from asbestos related illnesses, particularly mesothelioma. Our principals are among the most experienced mesothelioma lawyers in the country.
Levin Simes is staffed with expert attorneys with decades of total experience litigating and trying mesothelioma cases.  Our staff of lawyers, investigators, and legal assistants are here to assist you and your family with both the legal aspects of your diagnosis, and the personal and medical.
As one of the nation's leading mesothelioma law firms, Simmons Hanly Conroy has a proven track record. Every mesothelioma lawyer at the firm is committed to helping families affected by mesothelioma and asbestos-related diseases.
Asbestos-Related News in California
A recent study from Stanford University tested the use of inactivated induced pluripotent stem cells (iPSs) for personalized cancer vaccines that could treat and even potentially prevent cancer. The study is still in the early phases and has only been implemented in mice modules, but shows promise for the potential to vaccinate patients against various types of cancer, including mesothelioma, melanoma, and breast cancer.
Cousins Conor Lewis and Zack Johnson are premiering their documentary, Dirty Laundry, at the San Luis Obispo International Film Festival this week. The 75-minute film is a result of the cousins' 4,800 mile cross country cycling trip to better understand their grandmother's death as a result of pleural mesothelioma.
Resources for San Bernardino Mesothelioma Patients
Author: Linda Molinari
Editor in Chief, Mesothelioma Cancer Alliance
Read about Linda
Reviewer: Jennifer R. Lucarelli
Lawyer for Mesothelioma Victims and Their Families
Read about Jennifer