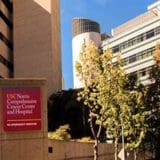 University of Southern California (USC)
---
Contact Information
Norris Comprehensive Cancer Center
1441 Eastlake Avenue
Los Angeles, CA 90033
(323) 865-3000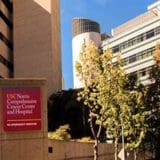 University of Southern California (USC)
---
Contact Information
Norris Comprehensive Cancer Center
1441 Eastlake Avenue
Los Angeles, CA 90033
(323) 865-3000
01. Mesothelioma Care
Mesothelioma Care at University of Southern California (USC)
A National Cancer Institute-designated Comprehensive Cancer facility, the Norris Comprehensive Cancer Center at the University of Southern California is a leader in both patient care and cancer research, offering the expertise of the scientists and physicians at USC's Keck School of Medicine combined with the latest cutting-edge technology available to aid in the diagnosis, treatment and prevention of all types of cancer, like mesothelioma.
If qualified, cancer patients at Norris are offered participation in any number of clinical trials that are being conducted at the facility at any given time. The hospital's teams of experts can determine whether or not their patients are eligible for consideration for these studies, which test new drugs (like Carboplatin, Gemcitabine and Alimta®) and treatments for cancer. Clinical trials offered at USC/Norris Comprehensive Cancer Center are due to being awarded numerous grants, totaling more than $85 million.
Additionally, the researchers at Norris are divided into five thematic programs, which allow them to quickly bring their findings to the patients at the facility. These programs include molecular genetics, epigenetics and regulation, tumor microenvironment, cancer epidemiology and cancer control research.
02. Specializations
University of Southern California (USC) Specializations
Cancer epidemiology
Clinical trials
Clinical oncology
Tumor microenvironment
03. Accreditations
University of Southern California (USC) Accreditations
National Cancer Institute Designated Comprehensive Cancer Center
04. Mesothelioma Clinical Trials
Mesothelioma Clinical Trials at University of Southern California (USC)
The following clinical trials are in progress or actively recruiting participants at University of Southern California (USC):
---
Conditions: Carcinoma, Neoplasms, Carcinoma, Squamous Cell, Adenocarcinoma, Neoplasms, Germ Cell and Embryonal, Mesothelioma, Nasopharyngeal Carcinoma, Cholangiocarcinoma, Carcinoma, Basal Cell, Gastrointestinal Stromal Tumors, Carcinoid Tumor, Carcinoma, Transitional Cell, Carcinoma, Adenoid Cystic, Teratoma, Adenocarcinoma of Lung, Carcinoma, Neuroendocrine, Pheochromocytoma, Seminoma, Choriocarcinoma, Cystadenocarcinoma, Serous, Carcinoma, Endometrioid, Cystadenocarcinoma, Paraganglioma, Chordoma, Hemangiosarcoma, Fibromatosis, Aggressive, Adenocarcinoma, Clear Cell, Adenocarcinoma, Mucinous, Trophoblastic Neoplasms, Nerve Sheath Neoplasms, Gestational Trophoblastic Disease, Neurofibrosarcoma, Thyroid Neoplasms, Fibroma, Cystadenocarcinoma, Mucinous, Pseudomyxoma Peritonei, Vulvar Neoplasms, Adrenocortical Carcinoma, Sex Cord-Gonadal Stromal Tumors, Carcinoma, Islet Cell, Paget Disease, Extramammary, Adenocarcinoma, Papillary, Carcinoma, Acinar Cell, Adenocarcinoma, Bronchiolo-Alveolar, Neoplasms, Unknown Primary, Mixed Tumor, Mullerian, Carcinoma, Giant Cell
Last Updated: June 30, 2021
Status: Recruiting
---
Conditions: Mesothelioma
Last Updated: June 26, 2021
Status: Recruiting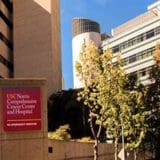 Get Help Contacting University of Southern California (USC)