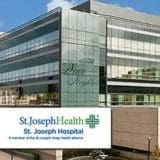 St. Joseph Hospital of Orange
---
Contact Information
1100 West Stewart Drive
Orange, CA 92868
(714) 633-9111
01. Mesothelioma Care
Mesothelioma Care at St. Joseph Hospital of Orange
St. Joseph Hospital of Orange's Thoracic Oncology Program specializes in comprehensive treatment for mesothelioma. Their team implements recent developments in medicine and advanced technology to deliver the highest level of care to their patients suffering from mesothelioma.
Their diagnostic testing for mesothelioma includes advanced PET-CT imaging technology. They utilize the latest advancements that combine a PET detector with CT technology, improving patient comfort and providing an earlier diagnosis. Specialists at St. Joseph Hospital recognize that lung cancer is a complicated diagnosis that may require various modalities for treatment. The team utilizes treatment options like chemotherapy, biotherapy, radiation therapy and surgery to deliver quality care to patients once they are diagnosed. St. Joseph Hospital specializes in video-assisted thoracoscopic surgery (VATS) technology to guide surgeons through minimally invasive surgery, reducing incision size and ultimately hospital stay time.
The program offers clinical trials, with research partners including the National Cancer Institute Community Cancer Centers Program (NCCCP). Through these trials, mesothelioma patients are able to access emerging treatment methods that may improve the quality of life. Patient and family resources are also available, including spiritual services and palliative care, as well as patient advocacy through social services.
02. Specializations
St. Joseph Hospital of Orange Specializations
Advanced PET-CT imaging technology
Extrapleural pneumonectomy
High dose rate (HDR) brachytherapy
Pleurectomy
Radiofrequency ablation (RFA)
Video-assisted thoracoscopic surgery (VATS)
03. Accreditations
St. Joseph Hospital of Orange Accreditations
Center of Excellence for Lung Cancer Screening
Commission on Cancer (CoC) accreditation
High Performing Hospitals for Lung Cancer Surgery by U.S. News & World Report
The Compliance Team's Exemplary Provider accreditation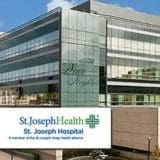 Get Help Contacting St. Joseph Hospital of Orange