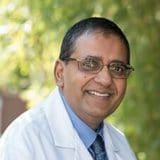 Dr. Ravi Salgia
Medical Oncologist and Associate Director for Clinical Sciences
---
Affiliated Treatment Facilities
Contact Information
Comprehensive Cancer Center
1500 East Duarte Road
Duarte, CA 91010
(626) 256-4673
01. Doctor Overview
Doctor Overview
Dr. Ravi Salgia is the associate director of clinical sciences at City of Hope Comprehensive Cancer Center. He also serves as the professor and chair of the Department of Medical Oncology & Therapeutics Research and the Arthur & Rosalie Kaplan Endowed Chair in Medical Oncology at the Cancer Center. Dr. Salgia is also the co-chief editor of the Journal of Carcinogenesis and is a member of the editorial advisory board of four other journals.
Dr. Salgia's research focuses include mesothelioma, lung cancer and alternative therapies like immunotherapy and targeted therapy. His research has been awarded several grants by the National Cancer Institute, and he has been highly recognized for his discoveries. Dr. Salgia was the first to clone the focal adhesion protein paxillin and localize the gene to 12q24, making him a pioneer for advancements in lung cancer and immunotherapy research.
02. Fast Facts
Doctor Fast Facts
Main Specialty: Medical Oncology
Other Interests & Specialties: Medical oncology, lung cancer, mesothelioma, thymic malignancies, bronchial carcinoids, molecular alterations in thoracic malignancies, thoracic malignancies, immunotherapy, targeted therapies, prevention of toxicities, drug development, database development, mechanisms of metastases and value-based genomics.
Certifications, Awards & Accolades: American Board of Internal Medicine certification in Medical Oncology
Education & Experience:
Medical Degree from Loyola University School of Medicine
Fellowship at Medical Oncology, Dana-Farber Institute
Clinical Fellow in Medicine at Harvard Medical School
Clinical Fellow in Medicine at Brigham and Women's Hospital
Residency for Internal Medicine at the John Hopkins Hospital
Internship at the John Hopkins Hospital
03. Publications
Publications
The DNA Walk and its Demonstration of Deterministic Chaos- Relevance to Genomic Alterations in Lung Cancer. Bioinformatics. January 2019. doi: 10.1093/bioinformatics/bty1021
State-of-the-art considerations in small cell lung cancer brain metastases. Oncotarget. July 2018;8(41):71223-71233. doi: 10.18632/oncotarget.19333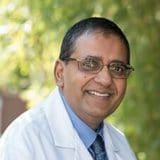 Get Help Contacting Dr. Ravi Salgia