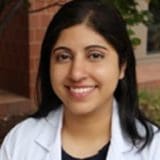 Dr. Jyoti Malhotra
Medical Oncologist
---
Affiliated Treatment Facilities
Contact Information
195 Little Albany Street
New Brunswick, NJ 08903
(732) 235-8515
01. Doctor Overview
Doctor Overview
Dr. Jyoti Malhotra is a medical oncologist at the Rutgers Cancer Institute in New Jersey. Dr. Malhotra came to Rutgers after a fellowship in Hematology and Oncology at Mount Sinai, as well as a residency for Internal Medicine at Georgetown University Hospital.
At the Cancer Insitute of New Jersey, Dr. Malhotra is a member of the Lung Cancer Program, working with an extensive multidisciplinary team to care for patients. In addition to actively treating patients, Dr. Malhotra continues to conduct research, conducting various clinical trials and maintaining active memberships with the American Cancer Society of Clinical Oncology, American Association for Cancer Research and Phase I/Investigational Therapeutics Program.
02. Fast Facts
Doctor Fast Facts
Main Specialty: Medical Oncology, Hematology, Internal Medicine
Other Interests & Specialties: Lung cancer, mesothelioma and esophageal cancer.
Certifications, Awards & Accolades: American Board of Internal Medicine Certifications for Medical Oncology, Hematology and Internal Medicine
Education & Experience:
Medical Degree from the Maulana Azad Medical College
Internship at Georgetown University Medical Center
Residency at Georgetown University Medical Center
Fellowships at Mount Sinai Medical Center and University of Pittsburgh Medical Center
03. Publications
Publications
Sodium channel Scn1b null mice exhibit prolonged QT and RR intervals. Journal of Molecular and Cellular Cardiology. November 2007;43(5):636-647. doi: 10.1016/j.yjmcc.2007.07.062
The L1-Type Cell Adhesion Molecule Neuroglian Influences the Stability of Neural Ankyrin in the Drosophila Embryo But Not Its Axonal Localization. Journal of Neuroscience. June 2000;20(12):4515-4523. doi: 10.1523/JNEUROSCI.20-12-04515.2000
Cis-activation of L1-mediated Ankyrin Recruitment by TAG-1 Homophilic Cell Adhesion. Journal of Biological Chemistry. September 1998.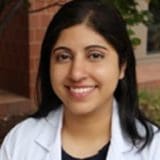 Get Help Contacting Dr. Jyoti Malhotra