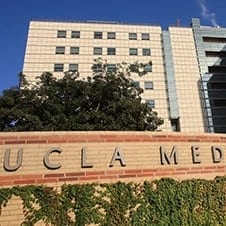 University of California Los Angeles (UCLA) Medical Center
---
Contact Information
Ronald Reagan UCLA Medical Center
757 Westwood Plaza
Los Angeles, CA 90095
(310) 825-9111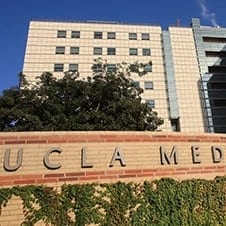 University of California Los Angeles (UCLA) Medical Center
---
Contact Information
Ronald Reagan UCLA Medical Center
757 Westwood Plaza
Los Angeles, CA 90095
(310) 825-9111
01. History
History of the University of California Los Angeles (UCLA) Medical Center
UCLA's cancer center was created in the late 1960s by a small group of scientists and volunteers with a shared passion for fighting cancer. In 1976, the National Cancer Institute designated it a "comprehensive cancer center," a "gold-star" designation reserved for roughly 40 institutions that demonstrate the highest standards in patient care, education, research and prevention. Despite its humble roots, the center has grown into one of the largest in the country, accommodating more than 20 thousand patients each year.
02. Mesothelioma Care
Mesothelioma Care at the University of California Los Angeles (UCLA) Medical Center
The University of California Los Angeles Medical Center has a dedicated Comprehensive Mesothelioma Program, founded by Dr. Robert Brian Cameron in 1997. The program takes pride on using lung-sparing surgeries to treat mesothelioma cancer, as well as other effective treatment techniques.
The cancer center prefers surgeries like pleurectomy/decortication to remove as much of the cancer as possible, while sparing other organs, followed by radiation therapy. UCLA believes that mesothelioma cannot be completely removed, so they treat it like a chronic condition with frequent well-tolerated therapies focused on slowing tumor growth. UCLA has also pioneered the use of immunotherapy and cryoablation in the treatment of mesothelioma.
Sarcomatoid mesothelioma, a less common cell type, is a specialization at UCLA. Their medical team uses chemotherapy treatments usually used on sarcomas in other areas of the body, instead of typical mesothelioma chemotherapy drugs. Chemotherapy is often followed by surgery and radiation for a multimodal approach. With the multitude of treatments being offered to mesothelioma patients, the program is composed of a multidisciplinary team, experienced in various cancer care specialties to offer patients with best-in-class care. To continue their research of mesothelioma, the UCLA Comprehensive Mesothelioma Program partners with UCLA scientists, the West Los Angeles VA Medical Center and the Pacific Meso Center at the Pacific Heart, Lung, & Blood Institute.
In addition to serving patients diagnosed with cancer, the UCLA Medical Center also considers the families of those diagnosed. They believe that families also play a crucial role in a patient's healing and treatment process, therefore providing them with a variety of nurturing support services throughout their time at the hospital.
03. Specializations
University of California Los Angeles (UCLA) Medical Center Specializations
Immunotherapy
Cryoablation
Lung-sparing surgeries
Mesothelioma
Multimodal therapy
Pleurectomy and decortication
Sarcomatoid mesothelioma
SMART therapy
04. Accreditations
University of California Los Angeles (UCLA) Medical Center Accreditations
Distinguished Hospital for Clinical Experience
Joint Commission Accreditation
U.S. News Best Hospitals Honor Roll
05. Mesothelioma Clinical Trials
Mesothelioma Clinical Trials at University of California Los Angeles (UCLA) Medical Center
The following clinical trials are in progress or actively recruiting participants at University of California Los Angeles (UCLA) Medical Center:
---
Conditions: Neoplasms
Last Updated: March 10, 2021
Status: Recruiting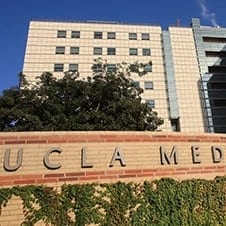 Get Help Contacting University of California Los Angeles (UCLA) Medical Center