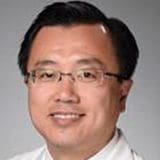 Michael Yuechia Chang, M.D.
Thoracic Surgeon
---
Affiliated Treatment Facilities
Kaiser Permanente Los Angeles Medical Center
Contact Information
4867 West Sunset Boulevard
Los Angeles, CA 90027
(833) 574-2273
01. Doctor Overview
Doctor Overview
Dr. Michael Yuechia Chang is a thoracic surgeon at Kaiser Permanente Los Angeles Medical Center with previous experience as a staff thoracic surgeon at the Brigham and Women's Hospital and a faculty appointment at Harvard.
Board-certified in thoracic surgery, Dr. Chang specializes in surgical procedures on diseases of the lungs, esophagus, mediastinum, and pleura. He is well-trained in both standard and minimally invasive surgical procedures and techniques. In regards to surgical procedures for mesothelioma, Dr. Chang has specific experience with pleurectomy and extrapleural pneumonectomy. Dr. Chang employs a multidisciplinary approach in the treatment plans of his cancer patients by working closely with oncologists, pulmonologists, and radiation oncologists in an effort to achieve the most effective results for his patients.
Dr. Chang maintains that one of the reasons he decided to accept his position at Kaiser Permanente Los Angeles was to serve as a mentor to residents. Dr. Chang takes full advantage of the opportunity to teach by having at least two residents accompany him when he performs surgery. He also advises residents on attending to the needs of patients admitted to the hospital and on evaluating patients in clinic.
02. Fast Facts
Doctor Fast Facts
Main Specialty: Thoracic Surgery
Other Interests & Specialties: General cardiac/thoracic surgery, lung cancer, esophageal cancer and tumors of the chest.
Certifications, Awards & Accolades: American Board of Surgery Certification in Surgery, American Board of Thoracic Surgery Certification in Thoracic and Cardiac Surgery, CMS Stage 1 Certification
Education & Experience:
Residency for General Surgery at University of Pennsylvania Health System
Fellowship for Thoracic Surgery at Brigham and Women's Hospital
Medical Degree from University of Michigan
Master's in Public Health Degree from Harvard University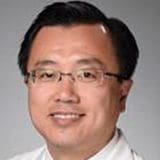 Get Help Contacting Michael Yuechia Chang, M.D.