Mesothelioma Cancer Centers
Vanderbilt Cancer Center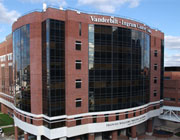 Doctors Affiliated with this Treatment Facility
The Vanderbilt-Ingram Cancer Center, part of Nashville's prestigious Vanderbilt University, was established in 1993 in hopes of bringing all cancer research, education, treatment, and outreach services at Vanderbilt together under one roof. In 1995, the facility became a National Cancer Institute-designated Clinical Cancer Center and then received the "Comprehensive" status in 2001. It is also part of the 21-member National Comprehensive Cancer Network, a non-profit alliance whose members come together in hopes of improving the quality and effectiveness of cancer treatment.
Consistently ranked by U.S. News and World Report as one of the best hospitals in the country for cancer care, Vanderbilt Cancer Center employs about 120 clinicians and 300 researchers and physician-scientists who work in seven designated research programs. Each year, the hospital sees about 4,500 new patients and supports about 65,000 outpatient visits as well. In addition, Vanderbilt is the only facility in the U.S. with a comprehensive program for cancer survivors regardless of age, type of cancer or where they received treatment.
Vanderbilt takes the team approach to cancer treatment with the formation of multi-disciplinary teams of cancer specialists and other clinicians who work together to devise the best treatment protocol for each patient that walks through the doors of the hospital. Many of the experts here also specialize in rare types of cancer, like mesothelioma, as well as more common forms of the disease.
Available treatment at Vanderbilt Cancer Center includes surgery, chemotherapy, radiation therapy, and a list of alternative treatments, which are offered at Vanderbilt's Center for Integrative Medicine. These include massage therapy, acupuncture, yoga, tai chi, and stress reduction techniques. Also offered at this facility are support services including spiritual and psychological counseling for patients and their families. In addition, patients have access to some 120 clinical trials at any given time, giving them the opportunity to participate in the testing of new drugs like Carboplatin, Alimta®, and Gemcitabine, and treatments for their form of cancer.
Author: Linda Molinari
Editor in Chief, Mesothelioma Cancer Alliance
Read about Linda
Reviewer: Annette Charlevois
Patient Support Coordinator
Read about Annette
Sources