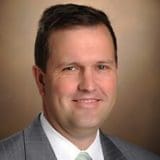 Dr. Eric S. Lambright
Thoracic Surgeon and Surgical Director of Lung Transplant
---
Affiliated Treatment Facilities
Contact Information
Vanderbilt Thoracic Surgery Clinic
1301 Medical Center Drive, Suite 1710
Nashville, TN 37232
(615) 322-0064
01. Doctor Overview
Doctor Overview
Dr. Eric S. Lambright is a thoracic surgeon with interests in pulmonary malignancies, lung transplantation, lung failure surgery and minimally invasive surgeries such as VATS. In addition to his experience in minimally invasive techniques, he is well-versed in complex procedures involving the chest wall. His most commonly performed procedures include lung transplants, lung biopsies, thoracoscopy, and removal procedures on the lungs and pleura.
Dr. Lambright joined the Vanderbilt faculty in 2004 and serves as the Chief of Thoracic surgery at the Veterans Affairs Medical Center in Nashville, Tennessee and was appointed as the Surgical Director of Lung Transplantation in 2007. He is also affiliated with Tennessee Valley Healthcare System-Nashville.
02. Fast Facts
Doctor Fast Facts
Main Specialty: Thoracic Surgery
Other Interests & Specialties: Lung conditions, lung transplant, lung transplantation, lung/thoracic cancer, surgery for lung diseases, surgery for rib cage and diaphragm diseases, surgery for lung cancer and esophageal cancer and other thoracic surgeries.
Certifications, Awards & Accolades: American Board of Surgery Certification in General Surgery, American Board of Thoracic Surgery Certification in Thoracic Surgery, 5-Star Award in Excellence in Healthcare. 2007-2010, Best Doctors in America Award, Thoracic Surgery Foundation for Research and Education (TSFRE), Brandeis Course Scholarship Recipient and named one of America's Top Surgeons
Education & Experience:
Medical Degree from University of Pennsylvania
Internship at University of Pennsylvania
Residencies in General Surgery and Cardiothoracic Surgery at University of Pennsylvania
03. Publications
Publications
Timeliness of Care and Lung Cancer Tumor-Stage Progression: How Long Can We Wait? The Annals of Thoracic Surgery. December 2017;104(6):1791-1797. doi: 10.1016/j.athoracsur.2017.06.051
Predicting lung cancer prior to surgical resection in patients with lung nodules. Journal of Thoracic Oncology. October 2017. 9(10):1477-84. doi: 10.1097/JTO.0000000000000287
Cytoplasmic clusterin expression is associated with longer survival in patients with resected non small cell lung cancer. Cancer Epidemiology, Biomarkers, & Prevention. September 2007;16(9):1845-51. doi: 10.1158/1055-9965.EPI-07-0146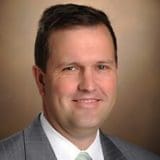 Get Help Contacting Dr. Eric S. Lambright