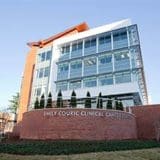 University of Virginia Health System
---
Doctors Affiliated with this Treatment Facility
Contact Information
Emily Couric Clinical Cancer Center
1240 Lee St.
Charlottesville, VA 22903
(434) 924-9333
01. History
History of the University of Virginia Health System
The University of Virginia was founded in 1819 by Thomas Jefferson and graduated its first class in medical studies in 1828. The first University Hospital, with 25 beds, was completed in 1901, and the nursing program was established that same year. A new, 682-bed hospital opened in 1960, followed by the University of Virginia Replacement Hospital in 1989.
The University of Virginia Health System was established during the tenure of Robert M. Carey, M.D., who served as Dean of the School of Medicine from 1986-2002. A capital campaign resulted in the construction of a new 150,000 square-foot outpatient cancer center, which opened in 2011. The Emily Couric Clinical Cancer Center is named for former Virginia State Senator Emily Couric, sister of news anchor Katie Couric. The center aims to provide patients with state-of-the-art treatment in a setting of dignity and comfort, using ample natural light and building materials.
02. Mesothelioma Care
Mesothelioma Care at the University of Virginia Health System
The Cancer Center at the University of Virginia treats mesothelioma at their lung clinic. The Lung Cancer Clinic is one of the largest and most active of its kind in the southeast, and their multidisciplinary team integrates research and clinical services to offer comprehensive care to mesothelioma patients.
Their advanced technology for detecting lung cancers include PET-CT scans and high-dose-rate brachytherapy. The testing gives patients the opportunity to be diagnosed in the early stages of their cancer, allowing for a better prognosis. Their Gamma Knife radiosurgery treatment option involves radiation therapy that is targeted and strong enough to impact aggressive tumors. The center also pioneered a radiotracer localization technique, which locates and removes cancerous lung nodules. Their team typically implements multiple treatment methods alongside surgery for mesothelioma patients, including chemotherapy and radiation therapy, to give patients a comprehensive, individualized treatment plan.
Experts at the center partake in clinical cancer research, which receives more than $75 million in funding annually. They focus on basic cancer research and molecular biology, and their trials are available to patients who qualify. The center also provides palliative care services to patients who require holistic care, pain and symptom management services, in addition to hospice care and emotional support.
03. Specializations
University of Virginia Health System Specializations
Gamma Knife radiosurgery
High-dose-rate (HDR) brachytherapy
PET-CT
Radiotracer localization
TomoTherapy
Video-assisted thoracoscopic surgery (VATS)
04. Accreditations
University of Virginia Health System Accreditations
Ranked No. 1 hospital in Virginia by U.S. News & World Report
National Cancer Institute (NCI) Comprehensive Cancer Center
05. Mesothelioma Clinical Trials
Mesothelioma Clinical Trials at the University of Virginia Health System
The following clinical trials are in progress or actively recruiting participants at the University of Virginia Health System:
---
Conditions: Lymphoma, Neoplasms, Lymphoma, Large B-Cell, Diffuse, Mesothelioma, Mesothelioma, Malignant, Prostatic Neoplasms, Lymphoma, T-Cell, Prostatic Neoplasms, Castration-Resistant
Last Updated: October 6, 2022
Status: Recruiting
Locations: Atlanta, GA. Chicago, IL. Baltimore, MD. Boston, MA. Boston, MA. Ann Arbor, MI. Grand Rapids, MI. Hackensack, NJ. Bronx, NY. New York, NY. Cincinnati, OH. San Antonio, TX. Charlottesville, VA. Seattle, WA.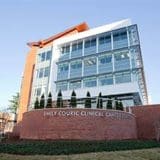 Get Help Contacting University of Virginia Health System