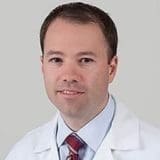 Dr. Ryan Gentzler
Medical Oncologist
---
Affiliated Treatment Facilities
Contact Information
Emily Couric Clinical Cancer Center
1240 Lee Street
Charlottesville, VA 22903
(434) 924-9333
01. Doctor Overview
Doctor Overview
Dr. Ryan Gentzler is a medical oncologist at the University of Virginia Health System and assistant professor. Dr. Gentzler's has a clinical focus on the treatment of patients with lung cancer and other thoracic malignancies, including mesothelioma. He also has experience treating esophageal cancer and cancers of the head and neck.
Dr. Gentzler has authored and co-authored over a dozen medical studies. His research is centered around the development of novel therapies for lung cancer, with a focus on immunotherapy drugs. He serves as the principle investigator on several clinical trials, and actively works to develop and add new clinical trials for patients in the area to provide access to more promising emerging treatments.
02. Fast Facts
Doctor Fast Facts
Main Specialty: Hematology, Oncology
Other Interests & Specialties: General oncology, hematologic oncology, lung cancer and other thoracic malignancies, esophageal cancers, head and neck cancers and immune-based therapies.
Certifications, Awards & Accolades: American Board of Internal Medicine Certifications in Internal Medicine and Medical Oncology, Emmanuel M. Weinberger Award for Outstanding Achievement in Hematology/Oncology, Kowlessar Award, Excellence in Teaching Award, Compassionate Care Award
Education & Experience:
Medical Degree from the Temple University School of Medicine
Residency for Internal Medicine at Thomas Jefferson University
Fellowship for Hematology and Oncology at McGaw Medical Center of Northwestern University
03. Publications
Publications
24-Month Overall Survival from KEYNOTE-021 Cohort G: Pemetrexed and Carboplatin with or without Pembrolizumab as First-Line Therapy for Advanced Nonsquamous Non-Small Cell Lung Cancer. Journal of Thoracic Oncology. January 2019;14(1):124-129. doi: 10.1016/j.jtho.2018.08.004
Indoleamine-2,3-Dioxygenase in Non-Small Cell Lung Cancer: A Targetable Mechanism of Immune Resistance Frequently Coexpressed With PD-L1. American Journal of Surgical Pathology. September 2018;42(9):1216-1223. doi: 10.1097/PAS.0000000000001099
Carboplatin and pemetrexed with or without pembrolizumab for advanced, non-squamous non-small-cell lung cancer: a randomised, phase 2 cohort of the open-label KEYNOTE-021 study. Lancet Oncology. November 2016;17(11):1497-1508. doi: 10.1016/S1470-2045(16)30498-3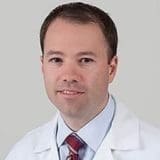 Get Help Contacting Dr. Ryan Gentzler