National Gypsum - Asbestos Exposure and Mesothelioma
National Gypsum Company History
National Gypsum was founded in 1925 based on a new process that promised lighter and more flexible gypsum wallboard. The company quickly established itself as a leader in that industry, and essentially introduced "modern" wallboard. The founders were so confident that they had the lightest and strongest wallboard that they attached a "gold bond" certificate to every shipment, offering $5,000 to anyone that could prove otherwise. The wallboard was soon called Gold Bond Wallboard, and the Gold Bond brand soon became better known than the manufacturer's name.
The smartly managed company endured several patent-infringement lawsuits and the Great Depression. In 1935, National Gypsum acquired its chief competition, Univeral Gypsum, more than doubling the size of the company and gaining access to valuable gypsum mines. Soon thereafter, they acquired Atlantic Gypsum as well.
In an effort to diversify their business, National Gypsum acquired National Mortar and Supply Company, built a paper mill, and attempted to break into the water-based latex paint market by acquiring Wesco. In 1954, they purchased Abestone Corporation, maker of asbestos cement. Asbestos-based products represented a relatively small percentage of National Gypsum's total sales, but were later determined to be a significant liability for the company.
National Gypsum Products that Contained Asbestos
National Gypsum manufactured and sold many products that contained asbestos. Many of these products were marketed under the "Gold Bond" brand name. Potentially dangerous National Gypsum products that contained asbestos included wallboard, roofing, shingles, cement board, gaskets, cements, adhesives, plasters, compounds, fireproofing materials, pipe covering and ceiling panels. Asbestos was chiefly used for its insulating and fire-resistant properties, and because it was readily and cheaply available. It was later discovered that asbestos dust can cause a number of potentially fatal diseases, most notably malignant pleural mesothelioma.
Following is a list of National Gypsum products known to contain asbestos. If you used these products, or worked in or around an environment that contained them, you may be at risk for developing asbestos cancer, like . Most of these products became available in the mid to late 1950s and many were sold until the early 1970s.
Gold Bond Asbestos Permaboard
Gold Bond Asbestos Cement Board
Gold Bond Abestone
Gold Bond Siding
Gold Bond Plasticrylic Panels
Gold Bond Non-perforated Asbestos Panels
Gold Bond Humiguard Asbestos Panels
Gold Bond Plasters (Gypsolite, E-Z Soak, All Purpose Joint Compound, etc.)
Gold Bond Sprayolite
Gold Bond Texture Paint
Gold Bond Joint Compounds
Gold Bond Fire-Shield Plaster
Gold Bond Natcor
Ripple-Tone Panels
Insul-Best Panels
National Gypsum Pliaboard
Plia-F-Lex
Soffit Panels
Thermotec
Gold Bond Woodrock
Flexfelt
Craftco Cement Paint
Gold Bond E-Z Spray Texture
Gold Bond Exterior Stucco
Panelectric Groove Fill
Perfect Spray
Rockwall Acoustic Plaster
Thermo-Weld Compound
Two-in-One Compound
Wesco Joint Treatment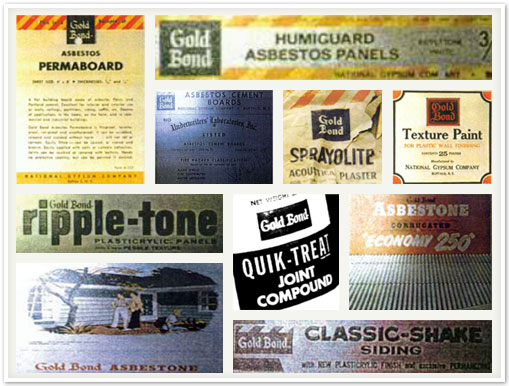 Occupations at Risk for Asbestos Exposure
The vast majority of National Gypsum products were used in all facets of the construction business - residential, commercial, and industrial. Workers in the construction industry are thus most at risk for asbestos exposure from these products. Acoustical workers, drywall tapers, plasterers and sheetrock hangers are among those construction workers that were most likely exposed to these asbestos containing products. However, because asbestos dust is an airborne threat, any environment in which asbestos products were used poses a potential health risk to workers at that site, hands-on or otherwise. Additionally, asbestos dust can be carried home on workers' clothing, posing a threat to anyone who handles the contaminated garments. Asbestos exposure has been directly linked to malignant mesothelioma which is known to have a low survival rate. This is because the cancer typically has a long latency period causing the disease to be diagnosed in later stages. For more information about treatment browse our mesothelioma treatment guide and mesothelioma resources page.
Resources for Mesothelioma Patients and Their Families
National Gypsum in the News
Declining housing starts (which drive demand for wallboard) and unresolved asbestos liability caused National Gypsum significant trouble beginning in 1986. In 1990, the company was unable to find a lender to replace an expiring $75 million credit line, and was forced to declare Chapter 11 bankruptcy
They emerged from bankruptcy in July 1993. Their reorganization plan called for the creation of the NGC Settlement Trust, funded by $5 million in cash and more than $600 million in insurance polices. This trust and all its assets are devoted to settling asbestos-related claims. If you were harmed by exposure to National Gypsum products containing asbestos, you may be entitled to compensation from this trust.
Author: Tara Strand
Senior Content Writer
Read about Tara
Reviewer: Jennifer R. Lucarelli
Lawyer for Mesothelioma Victims and Their Families
Read about Jennifer