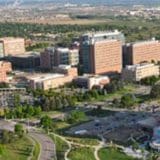 UCHealth Lung Cancer Clinic – Anschutz Medical Campus
---
Doctors Affiliated with this Treatment Facility
Contact Information
The Peritoneal Cancer Center, University of Colorado Anschutz Medical Campus
1665 Aurora Court Anschutz Cancer Pavilion
2nd floor
Aurora, CO 80045
(720) 848-0300
01. History
History of UCHealth Lung Cancer Clinic – Anschutz Medical Campus
The University of Colorado School of Medicine's history dates back to 1883 when the university created its Department of Medicine and Surgery on its Boulder campus. For the next several decades, students shuffled between Boulder and Denver for their classes, but in 1911 the School of Medicine merged with the Denver and Gross Medical College, opening the doors for the school's permanent move to Denver in 1925. That hospital site would later become the University of Colorado Health Sciences Center.
The medical center continued to grow throughout the 20th century: In 1947, the hospital was allowed to take responsibility for patients referred from Denver General Hospital. In the 1990s, hospital officials asked the U.S. Department of Defense for permission to repurpose the closed Fitzsimons Army Medical Center as an academic health center. The defense department agreed, and the first university labs moved to the Fitzsimons research towers in 2004. Shortly thereafter, the Fitzsimons campus was renamed the Anschutz Medical Campus in recognition of donations from Philip and Nancy Anschutz.
The university's board voted to rename the campus as the University of Colorado Denver in 2007, the same year it opened a new $644 million, 820,000-square-foot facility. Today the University of Colorado Hospital is affiliated with Children's Hospital Colorado, Denver Health, National Jewish Health and the Veterans Affairs Medical Center.
02. Mesothelioma Care
Mesothelioma Care at UCHealth Lung Cancer Clinic – Anschutz Medical Campus
The University of Colorado (CU) Cancer Center, located on the CU Anschutz Medical Campus, features a Peritoneal Cancer Multidisciplinary Clinic. The clinic treats cancers of the peritoneal (abdominal) cavity, including mesothelioma. Operating as a clinic allows patients to receive care from multiple disciplines including surgery, medical oncology, pathology, radiology and nutritionists. Using the expertise from all these departments enables a patient's care team to approach their cancer with a multimodal treatment plan using numerous therapies. The members of the care team meet all together in one day and create a treatment plan by the end of the visit. Such quick action improves patient outcomes by fast-tracking treatment.
The experience of the facility, and the specialists employed there, further contribute to improved patient outcomes. The surgeons at the Peritoneal Cancer Multidisciplinary Clinic have performed more than 500 cytoreductive surgery/heated intraperitoneal chemotherapy (CRS/HIPEC) procedures. They have found that this combination of treatment leads to improved survival and greater quality of life for patients with peritoneal malignancies, like peritoneal mesothelioma.
Patients treated at the University of Colorado Cancer Center benefit from the center's more than $75 million in annual cancer research funding and the wide variety of clinical trials offered. Almost 20% of patients diagnosed at the University of Colorado Cancer Center are enrolled in clinical trials. These trials, and the overall multimodal approach to cancer care, have helped the Cancer Center achieve the best 5-year survival rates of any center in the Rocky Mountain region.
03. Specializations
UCHealth Lung Cancer Clinic – Anschutz Medical Campus Specializations
Cytoreductive surgery
Heated intraperitoneal chemotherapy (HIPEC)
Intraperitoneal chemotherapy
Mesothelioma
Peritoneal mesothelioma
Systemic chemotherapy
04. Accreditations
UCHealth Lung Cancer Clinic – Anschutz Medical Campus Accreditations
Employs doctors that are on the National Comprehensive Cancer Network advisory panel
Member of the Oncology Research Information Exchange Network (ORIEN)
National Cancer Institute Designated Comprehensive Cancer Center (National Cancer Institute (NCI) designation)
U.S. News & World Report's Top Hospital in Colorado
05. Mesothelioma Clinical Trials
Mesothelioma Clinical Trials at UCHealth Lung Cancer Clinic – Anschutz Medical Campus
The following clinical trials are in progress or actively recruiting participants at UCHealth Lung Cancer Clinic – Anschutz Medical Campus:
---
Conditions: Carcinoma, Neoplasms, Carcinoma, Squamous Cell, Adenocarcinoma, Neoplasms, Germ Cell and Embryonal, Mesothelioma, Nasopharyngeal Carcinoma, Cholangiocarcinoma, Carcinoma, Basal Cell, Gastrointestinal Stromal Tumors, Carcinoid Tumor, Carcinoma, Transitional Cell, Carcinoma, Adenoid Cystic, Adenocarcinoma of Lung, Teratoma, Carcinoma, Neuroendocrine, Pheochromocytoma, Seminoma, Cystadenocarcinoma, Serous, Choriocarcinoma, Carcinoma, Endometrioid, Cystadenocarcinoma, Paraganglioma, Chordoma, Hemangiosarcoma, Fibromatosis, Aggressive, Adenocarcinoma, Mucinous, Nerve Sheath Neoplasms, Trophoblastic Neoplasms, Gestational Trophoblastic Disease, Neurofibrosarcoma, Thyroid Neoplasms, Fibroma, Cystadenocarcinoma, Mucinous, Pseudomyxoma Peritonei, Vulvar Neoplasms, Sex Cord-Gonadal Stromal Tumors, Adrenocortical Carcinoma, Carcinoma, Islet Cell, Paget Disease, Extramammary, Adenocarcinoma, Papillary, Carcinoma, Acinar Cell, Adenocarcinoma, Bronchiolo-Alveolar, Neoplasms, Unknown Primary, Mixed Tumor, Mullerian, Carcinoma, Giant Cell, Adenocarcinoma, Clear Cell
Last Updated: August 1, 2023
Status: Recruiting
Locations: Birmingham, AL. Mobile, AL. Anchorage, AK. Miami Beach, FL.
---
Conditions: Adenocarcinoma, Sarcoma, Mesothelioma, Mesothelioma, Malignant, Sarcoma, Ewing, Chondrosarcoma
Last Updated: August 12, 2022
Status: Recruiting
Locations: Scottsdale, AZ. Duarte, CA. Los Angeles, CA. Santa Monica, CA. Aurora, CO. Atlanta, GA. Chicago, IL. Ann Arbor, MI. Grand Rapids, MI. New York, NY. Cleveland, OH. Philadelphia, PA. Houston, TX. San Antonio, TX.
---
Conditions: Mesothelioma, Mesothelioma, Malignant
Last Updated: December 2, 2021
Status: Recruiting
Locations: Birmingham, AL. Phoenix, AZ. Scottsdale, AZ. Duarte, CA. La Jolla, CA. Los Angeles, CA. Los Angeles, CA. Newport Beach, CA. Aurora, CO. Aventura, FL. Coral Gables, FL. Deerfield Beach, FL. Jacksonville, FL. Miami, FL. Miami, FL. Plantation, FL. Chicago, IL. Chicago, IL. Lexington, KY. Baltimore, MD. Baltimore, MD. Boston, MA. Boston, MA. Rochester, MN. Creve Coeur, MO. Saint Louis, MO. Saint Louis, MO. Saint Peters, MO. Durham, NC. Pittsburgh, PA. Dallas, TX. Salt Lake City, UT.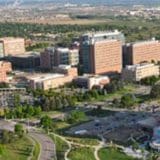 Get Help Contacting UCHealth Lung Cancer Clinic – Anschutz Medical Campus