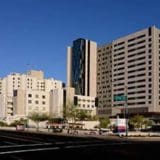 Banner University Medical Center Phoenix
---
Contact Information
1111 East McDowell Road
Phoenix, AZ 85006
(602) 839-2000
01. History
History of Banner – University Medical Center Phoenix
Banner – University Medical Center Phoenix, previously known as Banner Good Samaritan Medical Center, traces its history to a woman named Lulu Clifton, a deaconess in the Methodist church. After being stricken with tuberculosis, Clifton traveled to Phoenix in 1911 to recover from the ailment. While she had only $12 to her name, she was determined to open a new hospital in the city, and founded the Arizona Deaconess Hospital in an apartment building in Phoenix. A few years later, she was given a block of donated land, and the hospital was able to expand; in 1923 a new 105-bed facility opened its doors. In 1929, the hospital's name was changed to Good Samaritan Hospital.
In 2010, the hospital broke ground on a $71 million operating-room expansion building 20 state-of-the-art operating rooms, family consultation rooms, conference rooms, education space, and waiting rooms with technology to keep families connected to their loved ones during the surgery process.
Today, the facility is located in the heart of downtown Phoenix, Banner – University Medical Center Phoenix is one of 23 medical centers belonging to the nonprofit Banner Health system. As part of the Banner Health Network, the Banner – University Medical Center Phoenix has affiliations with numerous clinical partners, like Banner MD Anderson, which allows patients access to quality care at a number of locations around Arizona. Reputed as a teaching hospital and training nearly 250 physicians each year, the medical center contains 638 beds and accommodates more than 44,000 inpatient visits annually.
Banner – University Medical Center Phoenix's mission statement is, "We exist to make a difference in people's lives through excellent patient care." The hospital is home to one of the largest cancer treatment programs in Arizona. The center approaches cancer care with a multidisciplinary approach, where oncologists, radiologists, surgeons, nurses and patient navigators all work together to create and implement personalized care based on an individual's unique diagnosis.
02. Mesothelioma Care
Mesothelioma Care at Banner – University Medical Center Phoenix
Specialists at Banner – University Medical Center Phoenix have experience in a number of mesothelioma treatments, with a particular specialty in a number of radiation therapy options. The center offers total body irradiation and brachytherapy, where higher doses of radiation can be applied and allow for shorter treatment time. The Phoenix center also offers other standard therapies of surgery and chemotherapy and offers clinical trials through other affiliated centers. The hospital is also a pioneer in the use of Positron Emission Tomography, or PET, to diagnose and monitor malignant tumors.
Banner Health also offers a number of integrative therapies to improve patient comfort and quality of life during treatment and beyond. Some of these initiatives include dog therapy, music therapy, aromatherapy, spiritual care and a healing garden.
03. Specializations
Banner – University Medical Center Phoenix Specializations
Brachytherapy
Chemotherapy
Interventional radiology
Nuclear medicine
04. Accreditations
Banner – University Medical Center Phoenix Accreditations
U.S. News & World Report Best Hospital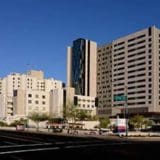 Get Help Contacting Banner University Medical Center Phoenix