01. Asbestos in the WTC
Was There Asbestos in the World Trade Center?
The World Trade Center included seven buildings in Lower Manhattan. The twin towers were considered the two main buildings of the World Trade Center complex. They were named the north tower and the south tower.
When Was the World Trade Center Built?
Construction of the twin towers began in 1968. The first tenants moved into the north tower in 1970 and into the south tower in 1973.
Early construction of the twin towers used asbestos. Contractors used asbestos materials in the lower floors of the north tower, before the dangers of asbestos exposure became widely recognized in the early 1970s.
In early April 1970, the New York City Department of Air Resources established asbestos spray insulation regulations. Contractors using asbestos insulation in the twin towers failed to comply with these regulations.
As a result, the Department ordered contractors to stop asbestos use in the World Trade Center. The upper levels of the north tower and the entirety of the south tower contained asbestos alternatives.
Why Was There Asbestos in the Twin Towers?
Asbestos was mainly used in the twin towers for insulation. Asbestos-containing cement, flooring and foam board were also used. The mineral added strength and fire resistance to the towers' infrastructure.
Contractors sprayed insulation on steel beams in the lower levels of the north tower. The steel framework held up the towers, supporting elevator shafts and stairwells.
How Much Asbestos Was in the World Trade Center?
The north tower contained an estimated 300 – 400 tons of asbestos. The twin towers also contained many other contaminants. In total, the towers were constructed with 424,000 tons of concrete and 485,000 tons of other materials.
Was Asbestos Removed From the World Trade Center?
The Port Authority of New York and New Jersey established regulations for asbestos use and abatement in 1971. Early asbestos abatement estimates from the World Trade Center totaled close to $1 billion.
In the mid-1980s, the Port Authority began an abatement program to remove asbestos from the World Trade Center. Removal was difficult and expensive because asbestos was in the buildings' framework.
Limited information is available about asbestos abatement from the twin towers. Some reports state the program removed some of the asbestos. However, testing of 9/11 dust and rubble confirms the mineral was still present. Asbestos exposure in New York may have led workers and residents to develop an asbestos disease.
02. Asbestos Exposure
The Twin Towers and Asbestos Exposure
On September 11, 2001, an attack on the World Trade Center caused the twin towers to collapse. Fires from the twin towers caused 7 World Trade Center (another building in the World Trade Center complex) to collapse. The area where the buildings collapsed is referred to as Ground Zero.
During the attack, concrete and other materials in the twin towers were destroyed. This released a toxic dust cloud containing thousands of contaminants, including the carcinogen asbestos.
*What Was in the World Trade Center Dust Cloud?
Asbestos
Benzene
Calcium carbonate
Concrete dust
Dioxin
Glass fibers
Lead
Mercury
Other metals
Other high-pH chemicals
*Based on samples gathered by the Environmental Protection Agency (EPA)
9/11 Asbestos Exposure
Asbestos-containing dust from the attack on the twin towers spread across Lower Manhattan. As a result, thousands of first responders, residents and workers experienced asbestos exposure. Individuals in the area were also exposed to several other carcinogens.
How Far Did the Dust Cloud Travel on 9/11?
Low levels of dust were found as far as the Empire State Building, almost three miles away. The exact distance remains unclear. Individuals have shared varied reports of small amounts of debris across the city.
The Victims Compensation Fund (VCF) maps out a smaller exposure zone when determining financial eligibility.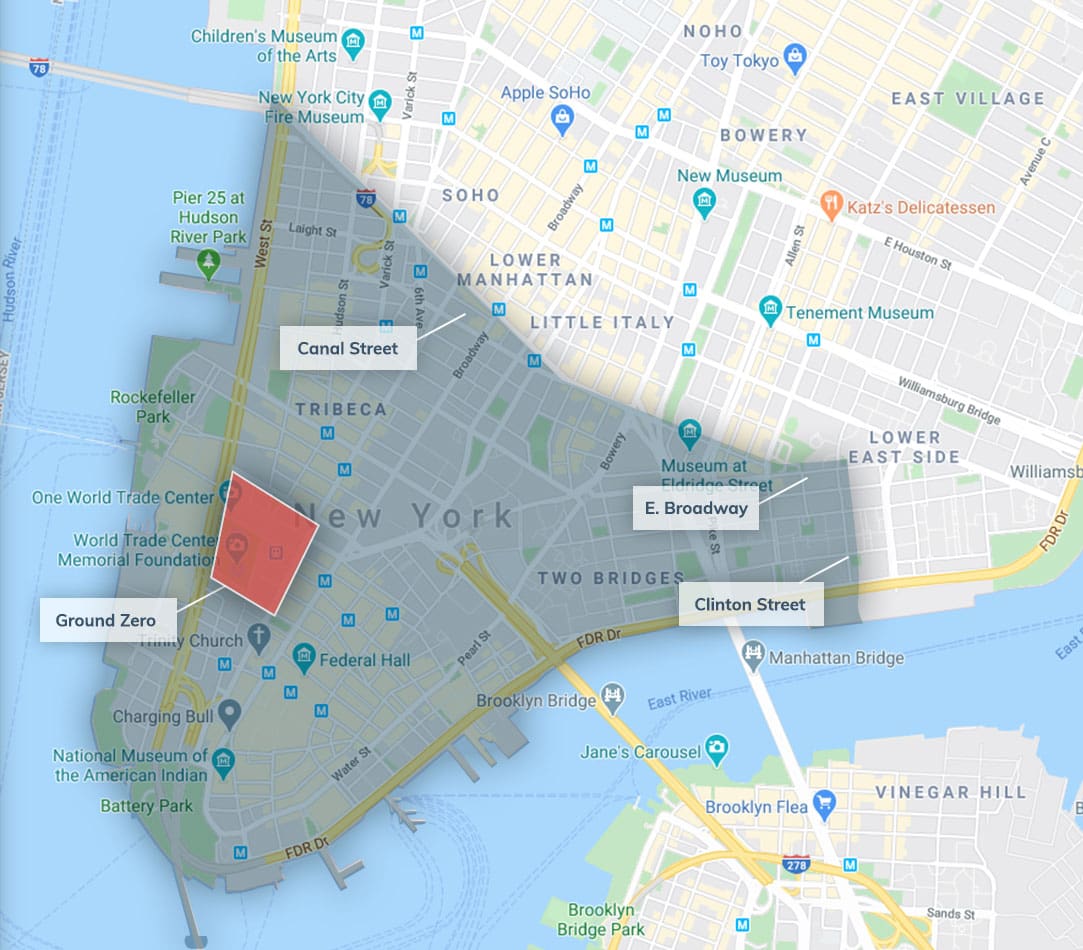 Those in close and distant proximity to the attacks faced potential asbestos exposure.
Who Was At Risk of 9/11 Asbestos Exposure?
Communications recovery workers
Educators and students
Employees in nearby buildings
Health professionals
Indoor cleanup crews
New York City residents
Outdoor cleanup crews
Passersby in the area
Volunteers
World Trade Center employees
The EPA's Response to 9/11 and Asbestos
Days after the attacks, the Environmental Protection Agency (EPA) stated the Manhattan air was "safe to breathe." However, the EPA later concluded it did not have the data to back this claim. The agency tested the air and settled dust to determine if asbestos fibers and other particles were present.
In response to the 9/11 attacks and asbestos, the EPA referenced National Emission Standards for Hazardous Air Pollution (NESHAP) regulations. NESHAP states material containing at least 1% asbestos (by volume) is asbestos-containing material.
Once deemed asbestos-containing, the material is then subject to EPA and NESHAP regulations. Bulk dust and ambient air samples were collected from September 11 to September 18, 2001. More than 25% of the samples contained levels of asbestos higher than 1%.
Asbestos Handling and Safety Concerns
Demolition regulations were not strictly followed during the World Trade Center cleanup.
The public received insufficient information about air quality following the attack.
There was a lack of indoor air testing and verification to ensure safe breathing conditions.
EPA officials did not have benchmarks in place for asbestos and similar pollutants. In other words, there were no standards for what levels of contaminants in the air were "safe" to breathe.
The EPA could not provide an accurate asbestos risk assessment from 9/11 due to a lack of testing methods.
The public wanted more information about asbestos health risks after 9/11.
In addition to the immediate risks of 9/11, there were concerns about asbestos dust. Dust entered HVAC systems of nearby schools, buildings and residences. Thick layers of dust coated indoor areas and filled ventilation systems.
The EPA and New York City Department of Environmental Protection (NYCDEP) issued warnings about indoor air quality. NYCDEP gave building owners a "Cleanup of Asbestos Containing Material" notice. The notice told owners to assume the dust contained asbestos. It also advised owners to follow NYCDEP Asbestos Abatement Program procedures for safe asbestos handling and disposal.
03. Asbestos Health Risks
World Trade Center Asbestos Health Risks
Public health officials have stated that more than 90,000 individuals experienced harmful exposure from the attack. Every time a piece of rubble was disturbed, small clouds of dust and ash became airborne.
Many individuals in the area were not wearing personal protective equipment (PPE). Lack of protection caused many individuals to experience exposure.
As a result of time spent at Ground Zero, many victims have been diagnosed with 9/11-related illnesses and cancers.
Hematopoietic cancer
Human papillomavirus (HPV)-related cancers
Leukemia
Lymphatic cancer
Myeloma
Oropharyngeal cancers
Other malignant neoplasms
Prostate cancer
Thyroid cancer
Other 9/11-Related Illnesses
Autoimmune disease
Cardiovascular disease
Chronic respiratory disorders
Depression
Hearing loss
Lung disease
Obstructive sleep apnea
Post-traumatic stress disorder (PTSD)
Pulmonary fibrosis
Sarcoidosis
Some conditions take years to develop, such as many asbestos-related diseases. As a result, some victims are only just beginning to experience symptoms of asbestos exposure.
First Responders and 9/11 Illnesses
A growing number of 9/11 first responders face cancer and other illnesses. First responders include:
Emergency medical technicians (EMTs)
Firefighters
Paramedics
Police officers
Rescue teams
Servicemembers
The 9/11 rescue workers spent many hours at the heart of Ground Zero, breathing in carcinogens from the dust. The lack of PPE led to an increased risk of inhaling harmful materials.
A reported 23 members of the NYPD died in the World Trade Center terrorist attack in September 2001. By September 2019, a reported 241 members of the NYPD died from 9/11-related illnesses.
The rising number of diagnoses led to the creation of the World Trade Center Health Program (WTC Health Program). As of December 2020, 80,146 first responders enrolled in the program to receive treatment for a 9/11-related illness. Enrollees include:
17,022 New York City Fire Department responders
62,167 general responders
The program is still accepting patients today.
9/11 and Mesothelioma
Malignant mesothelioma is a 9/11 cancer of particular concern due to the high levels of asbestos released during the attack. Asbestos exposure is the only known cause of mesothelioma.
The number of mesothelioma cases stemming from 9/11 is largely unknown. Mesothelioma has a long latency period. As a result, the cancer may take 10 – 50 years to develop. As time passes, medical professionals expect the number of mesothelioma diagnoses to grow.
The type of asbestos used in the World Trade Center is closely tied to mesothelioma. Short chrysotile fibers were the most common type of asbestos found in the 9/11 dust. This is the most common type of asbestos found in diseased mesothelioma tissue.
Nick Ursta, 52, passed away from pleural mesothelioma in November 2019. This was the first case of pleural mesothelioma related to 9/11. Ursta was an EMT who assisted with recovery at Ground Zero the day after the attacks.
Manhattan residents impacted by the attacks are also at risk of developing mesothelioma. Higher quantities of asbestos and long-term exposure may increase mesothelioma risk.
What Can You Do if You Were Exposed to 9/11 Dust?
Individuals exposed to asbestos cannot eliminate their risk of developing mesothelioma. However, they may take safety measures to improve early detection.
Victims of exposure should:
Notify their physician of their potential asbestos exposure
Document the time and suspected type of exposure
Understand asbestos symptoms and potential asbestos-related conditions
Notify their doctor immediately should any symptoms present
Maintain frequent checkups to improve the chances of early detection
04. Treatment Resources
Treatment Resources for 9/11 Victims
Individuals affected by the World Trade Center attack may be eligible for benefits. Some New York City cancer centers have programs for victims and first responders. For example, Mount Sinai Medical Center offers a World Trade Center Health Program (WTC).
The World Trade Center Health Program
The WTC Health Program was set up to help those suffering from 9/11-related conditions. The World Trade Center Health Program offers specialized services to 9/11 victims. Support services include:
Benefits counseling
Health monitoring
Mental health services
Treatment
There are four member types eligible to enroll in the program:
FDNY responders
General responders
NYC survivors
Pentagon/Shanksville, Pennsylvania responders
The WTC Health Program is administered by the National Institute for Occupational Health and Safety (NIOSH). NIOSH is part of the Centers for Disease Control and Prevention (CDC). The WTC Health Program has many Clinical Centers of Excellence throughout New York City. Some centers are specific to responders and survivors.
Victims can apply through the World Trade Center Health Program website. The program covers a variety of illnesses and asbestos-related diseases. Coverage includes all types of mesothelioma.
The WTC Health Program and World Trade Center Health Registry gather statistics around enrollees. Findings are shared with the public, health researchers and medical professionals.
This research provides an understanding of 9/11 impacts and the need for support services.
05. Compensation for Victims
Compensation for 9/11 Asbestos Victims
Treatment for conditions such as malignant mesothelioma can be costly. Victims may be able to receive compensation to cover medical bills and other fees associated with their diagnoses.
9/11 Victims Compensation Fund
Congress established the 9/11 Victim Compensation Fund (VCF) for two main purposes:
Protect airlines from litigation related to the 9/11 attacks
Compensate victims who suffer a 9/11-related injury or loved ones who lost a family member to a 9/11-related injury
Victims filing a claim could not sue airlines or other parties related to the 9/11 attacks. The fund ran from 2001 to 2004. Around $7 billion was paid out to more than 5,000 families. Families who suffered a loss of a loved one and individuals injured during the attack received compensation.
Continuation of the VCF and WTC Health Program
January 2011: President Obama signed the James Zadroga 9/11 Health and Compensation Act of 2010. This act reestablished the VCF fund. The act funded an additional $2.8 billion and created the WTC Health Program.
December 2015: President Obama passed the James Zadroga 9/11 Health and Compensation Reauthorization Act. The act funded an additional $4.6 billion to the VCF and reauthorized the WTC Health Program through 2090.
July 2019: President Donald Trump signed the Never Forget the Heroes: James Zadroga, Ray Pfeifer and Luis Alvarez Permanent Authorization of the September 11th Victim Compensation Fund Act. The act made the VCF permanent and authorized $10.2 billion for claims through 2090.
In 2019, the VCF awarded victims $1,218,499,150. This contributes to a total of $5,964,774,722 awarded by the VCF since its creation.
Victims and family members may have the right to file a claim. Claims require certain documentation and deadlines. Individuals should seek help as soon as possible.
Individuals may seek help from experienced attorneys. Asbestos attorneys help clients understand their compensation options and the claim filing process.