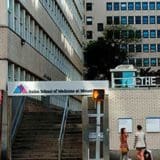 Mount Sinai Medical Center
---
Doctors Affiliated with this Treatment Facility
Contact Information
Lung and Thoracic Cancer Services at The Mount Sinai Hospital
1190 Fifth Avenue
New York, NY 10029
(212) 241-9466
01. History
History of Mount Sinai Medical Center
Located in Manhattan overlooking Central Park, Mount Sinai Medical Center is a medical teaching facility renowned for its excellence in clinical care. The medical center is comprised of two entities: Mount Sinai Hospital, one of the oldest and largest teaching hospitals in the United States, and the Icahn School of Medicine at Mount Sinai, its medical school affiliate. Mount Sinai was founded in 1855, originating as a charitable Jewish hospital for low-income Jewish residents. The hospital continued to expand over the years with new facilities and continued dedication to specialties, like thoracic care.
02. Mesothelioma Care
Mesothelioma Care at Mount Sinai Medical Center
Mount Sinai has been instrumental in making medical history on a number of occasions in the past 150+ years. It was the first hospital to describe a number of diseases, and was notably the first hospital to link exposure to asbestos to the occurrence of cancer.
Today, Mount Sinai Medical Center is home to renowned mesothelioma specialists with years of experience diagnosing and treating different forms of the rare cancer. Patients can receive care from a team of specialists with disciplines including pulmonology, radiation oncology, thoracic surgery and radiology, ensuring that all of their areas of expertise blend together to develop the best-personalized treatment plan for a patient's individual case. Ultimately, the team at Mount Sinai works with the mission to treat the patient, not just the disease.
Specialists at Mount Sinai are experienced in standard treatments for mesothelioma, including surgery like pneumonectomies, chemotherapy and radiation. The hospital treats dozens of mesothelioma patients each year. Mesothelioma experts, like Dr. Raja Flores, also are at the forefront of research, publishing frequent studies on new treatments and diagnostic techniques and leading clinical trials that allow patients access to the most promising emerging therapies. The center's research has also focused on developing a better understanding of the disease itself, including how it develops. Mount Sinai is one of several members of a national consortium that utilizes tissue specimens in order to better understand how the disease reacts to different therapies.
Since Mount Sinai has numerous locations throughout New York City, patients have more ease-of-access to care. The medical center offers clinical trials at different locations within their network, so patients have access to emerging treatments when eligible. One facility of the Mount Sinai network, the Tisch Cancer Institute at Mount Sinai, is also designated by the National Cancer Institute as a comprehensive cancer center, showing it is at the forefront of medical research, scientific training and patient care. Mount Sinai Medical Center also frequently collaborates with another center under the health system, Mount Sinai Selikoff Centers for Occupational Health. This center's goal is to keep workers and workplaces safe and healthy by diagnosing and treating occupational diseases, including asbestosis and mesothelioma.
03. Specializations
Mount Sinai Medical Center Specializations
Lung-sparing surgical techniques
Extrapleural pneumonectomy
Pleurectomy/decortication
Chemotherapy
Radiation oncology
Multimodal therapy
04. Accreditations
Mount Sinai Medical Center Accreditations
The Joint Commission – Gold Seal of Approval
Accreditation Award for three years with Commendation from the American College of Surgeons Commission on Cancer
Professional Research Consultants National Excellence in Healthcare Award Winner
05. Hospital Services
Patient and Family Services at Mount Sinai Medical Center
Mount Sinai Medical Center offers support resources for patients and family members. Some support resources include:
06. Offsite Services in Manhattan
Patient and Family Services in the Manhattan Area
Mount Sinai Medical Center is located in the major metropolitan area of Manhattan. As a result, many services are easily accessible for mesothelioma patients and their families during or after treatment. These offsite services include support groups, counseling, hospice and pain clinics.
Post-Surgical Rehabilitation
App that offers on-demand access to New York certified physical therapists at a location, date and time of your choice: Luna Physical Therapy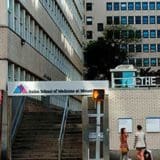 Get Help Contacting Mount Sinai Medical Center