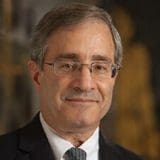 Dr. Jack A. Elias
Retired Mesothelioma Specialist
---
Dr. Jack A. Elias is no longer practicing medicine at Brown University. Mesothelioma patients can seek specialized treatment from other doctors in Rhode Island.

01. Doctor Overview
Doctor Overview
Dr. Jack A. Elias was the Senior Vice President of Health Affairs and Dean of Medicine and Biological Sciences at Brown University in Providence, Rhode Island. He is no longer accepting patients and now works as a senior health advisor for the university. Before coming to Brown University, he held positions at the University of Pennsylvania and was Chief of Pulmonary and Critical Care Medicine and Chair of the Department of Medicine at the Yale School of Medicine. Dr. Elias's clinical interests included asthma, chronic obstructive pulmonary disease (COPD), interstitial lung disease and acute lung injury.
Before taking his new role, Dr. Elias had various research interests including cellular and molecular pathogenesis of asthma and COPD, and cellular and molecular mechanisms of lung injury repair and remodeling. He studied transgenic modeling of pulmonary diseases and disorders, effector mechanisms of IL-13, VEGF, and TGF-beta type cytokines in the lung, and effector mechanisms for the TH2 and Th1 cytokines in the lung. Like mesothelioma, pleural pulmonary disease has been linked to asbestos.
Dr. Elias received a number of awards over the course of his medical career, including the Recognition Award for Scientific Accomplishment from the American Thoracic Society, four RO1 awards and a T32 training grant in Pulmonary Biology. As a respected expert on lung inflammation, injury and repair, Dr. Elias was the first to translate pathogenic mechanisms in models to humans and human disorders.
02. Fast Facts
Doctor Fast Facts
Main Specialty: Pulmonary, Critical Care
Other Interests & Specialties: Pulmonology, general pulmonary medicine, asthma, immune and allergic disorders, chronic obstructive pulmonary disease, effects of smoking, intensive care and interstitial lung diseases.
Certifications, Awards & Accolades: American Board of Internal Medicine and American Board of Allergy and Immunology Certifications, American Board of Internal Medicine Certification, Edward Livingston Trudeau Scholar, Leonard Dalsemer Scholar, Career Investigator Award from the American Lung Association, Recognition Award for Scientific Achievement from the American Thoracic Society, member of the ASCI, Council of National Heart Lung and Blood Institute, Alpha Omega Alpha and IOM elected member
Education & Experience:
Undergraduate Degree from University of Pennsylvania
Medical Degree from University of Pennsylvania
Residency at Tufts-New England Medical Center
Residency in Medicine at the University of Pennsylvania
Fellowship in Pulmonary and Critical Care Medicine at University of Pennsylvania Medical Center
Fellowship in Allergy and Clinical Immunology at the University of Pennsylvania
03. Publications
Publications
TGF-beta driven lung fibrosis is macrophage dependent and blocked by Serum amyloid P. The International Journal of Biochemistry & Cell Biology. January 2011;43(1):154-162. doi: 10.1016/j.biocel.2010.10.013
Protective effects of basic fibroblast growth factor in the development of emphysema induced by interferon-γ. Experimental & Molecular Medicine. February 2011;343:169-178. doi: 10.3858/emm.2011.43.4.018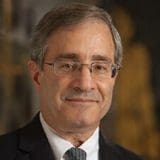 Get Help Contacting Dr. Jack A. Elias