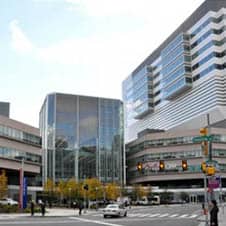 Hospital of the University of Pennsylvania
---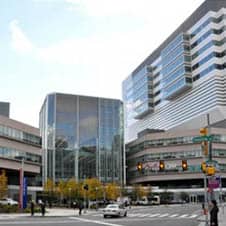 Hospital of the University of Pennsylvania
---
01. History
History of the Hospital of the University of Pennsylvania
Founded in 1765, the University of Pennsylvania School of Medicine was the first medical school in the 13 American colonies, opening its doors even before the United States declared its independence and making it the oldest medical school in the country. Two centuries later, the UPenn School of Medicine opened the doors of a new cancer affiliate. Originally named The Cancer Center, the Abramson Cancer Center was established in 1973 by a group of cancer specialists committed to offering the newest advances in treatment to their patients. In June 2002, the center's name was changed to the Abramson Cancer Center of the University of Pennsylvania, recognizing contributions by the Leonard and Madlyn Abramson family. Today, the Abramson Cancer Center handles more than 70,000 outpatient visits each year and provides more than 33,000 chemotherapy treatments and 66,000 radiation treatments. In addition to its patient work, the center also hosts more than 400 scientists who work to develop new ways to prevent, diagnose and treat various types of cancer.
02. Mesothelioma Care
Mesothelioma Care at the Hospital of the University of Pennsylvania
Hospital of the University of Pennsylvania's Abramson Cancer Center has a renowned mesothelioma program, the Penn Mesothelioma and Pleural Program. Patients can receive care from specialists that have experience treating malignant mesothelioma with a team-based approach. The team at the center is well-versed in numerous treatment options, particularly specializing in lung-sparing surgery and promising emerging treatments like photodynamic therapy.
The cancer center's team is also composed of oncology patient navigators. Patient navigators provide a variety of benefits to patients and their families. They will help with specialized care, coordinate appointments, provide information on what to expect throughout and after treatment, facilitate communication between the patient and other members of their care team, make referrals, support decision-making, assist with finding clinical trials, answer any questions and provide educational materials.
The Penn Mesothelioma and Pleural Program is well-known for its clinical trials specific to mesothelioma. While not all patients are eligible for certain clinical trials, their medical care team will help determine eligibility and options for experimental treatments.
In addition to social workers, financial consultants and other common cancer center support services, the Hospital of the University of Pennsylvania also has semi-private, private and deluxe accommodations, ideal for patients and families that are traveling for mesothelioma treatment. They also offer home care services and hospice for patients in need. For patients who may not be able to travel as far, The Abramson Cancer Center is the cornerstone member of the Penn Cancer Network, a select group of hospitals throughout Pennsylvania, Delaware and New Jersey that work with Abramson to provide top patient care. As such, patients could potentially seek treatment at one of the affiliated centers.
03. Specializations
Hospital of the University of Pennsylvania Specializations
Chemotherapy
Immunotherapy
Photodynamic therapy
Pleural mesothelioma
Radiation therapy
Surgery
04. Accreditations
Hospital of the University of Pennsylvania Accreditations
Commission on Cancer (CoC) accredited member
National Comprehensive Cancer Network member
National Cancer Institute (NCI) Designation
#1 Hospital in Pennsylvania recognition from U.S. News & World Report's Honor Roll of Best Hospitals
05. Mesothelioma Clinical Trials
Mesothelioma Clinical Trials at the Hospital of the University of Pennsylvania
The following clinical trials are in progress or actively recruiting participants at the Hospital of the University of Pennsylvania:
---
Conditions: Carcinoma, Melanoma, Carcinoma, Squamous Cell, Uterine Cervical Neoplasms, Mesothelioma, Nasopharyngeal Carcinoma, Cholangiocarcinoma, Breast Neoplasms, Lung Neoplasms, Carcinoma, Basal Cell, Squamous Cell Carcinoma of Head and Neck, Endometrial Neoplasms, Colorectal Neoplasms, Carcinoma, Non-Small-Cell Lung, Carcinoma, Neuroendocrine, Thymoma, Small Cell Lung Carcinoma, Anus Neoplasms, Vulvar Neoplasms
Last Updated: May 12, 2020
Status: Recruiting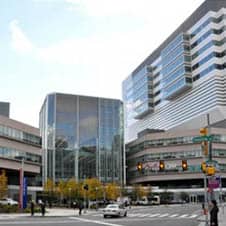 Get Help Contacting Hospital of the University of Pennsylvania
Free
Mesothelioma Treatment Guide
Please fill in the form to request our FREE Mesothelioma Treatment Guide.
It will be sent to you within 24 hours.