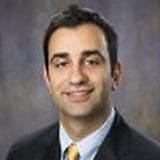 Alexander Farivar, M.D.
Thoracic Surgeon
---
Affiliated Treatment Facilities
Contact Information
Swedish Thoracic Surgery - First Hill
747 Broadway
Seattle, WA 98122
(206) 215-6800
01. Doctor Overview
Doctor Overview
Dr. Alexander Farivar specializes in pleural mesothelioma, an asbestos-related cancer that strikes the pleura, or the lining of the chest wall. He performs surgeries on the lungs, chest wall and esophagus, and often utilizes several cutting-edge surgery techniques. These include "robot-assisted surgery," surgery that pairs a surgeon with robotic technology, usually for early-stage cancer surgeries, and "video-assisted thoracic surgery," a technique that accesses the lung through small incisions with the aid of a tiny video camera.
Dr. Farivar's time in medical school had a large impact on his interest in mesothelioma and improving treatments. He completed a fellowship in cardiothoracic surgery at Brigham and Women's Hospital/Harvard Medical School in Boston. This fellowship made a profound impact on Dr. Farivar's passion for treating patients with mesothelioma. "My experience in training in mesothelioma surgery at Brigham and Women's Hospital in Boston, arguably the biggest international center treating mesothelioma, has shown me that people can survive for years after aggressive treatment including surgery," Dr. Farivar writes. "I know we can help patients with mesothelioma feel and breathe better, and enjoy their remaining years."
In addition to his work with mesothelioma, Dr. Farivar also treats chest wall tumors, esophageal cancer, achalasia, gastroesophageal reflux disease, and other disorders affecting the chest and esophagus.
02. Fast Facts
Doctor Fast Facts
Main Specialty: Thoracic Surgery
Other Interests & Specialties: General surgery, pleural and lung cancers and robotic surgery.
Certifications, Awards & Accolades: American Board of Surgery Certification in Surgery, American Board of Thoracic Surgery Certification in Thoracic and Cardiac Surgery
Education & Experience:
03. Publications
Publications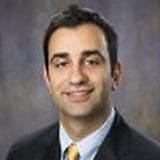 Get Help Contacting Alexander Farivar, M.D.