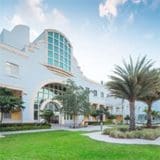 Sylvester Comprehensive Cancer Center
---
Doctors Affiliated with this Treatment Facility
Contact Information
University of Miami Health System
1475 Northwest 12th Avenue
1st Floor
Miami, FL 33136
(305) 243-1000
01. Mesothelioma Care
Mesothelioma Care at the Sylvester Comprehensive Cancer Center
The Sylvester Comprehensive Cancer Center utilizes a multidisciplinary approach to treating mesothelioma cancer, providing renowned detection technology and treatment options to patients.
Their robotic video-assisted surgery program is among the top 10 in the southeastern United States, decreasing blood loss and hospital stay time. With this technology, the center has also found improved life expectancies for patients. As a first-line treatment for early-stage patients, specialists at the cancer center often perform surgery to remove as much of the cancer as possible, but chemotherapy and advanced radiation therapy are also utilized options for patients. The Sylvester Comprehensive Cancer Center offers advanced radiation oncology tools, including MRI-guided radiation therapy. Specialists often treat patients with intensity-modulated external radiation therapy, which allows for shorter treatment times, more targeted treatment and less damage to the healthy tissue around the treated area.
Clinical trials are offered to patients who are eligible, providing further options for treatment. A wide array of support options for patients and families are also available through the cancer center, including support groups, caregiver support and palliative care.
02. Specializations
The Sylvester Comprehensive Cancer Center Specializations
Chemotherapy
Robotic video-assisted surgery
Radiation therapy
Intensity-modulated radiation therapy (IMRT)
03. Accreditations
The Sylvester Comprehensive Cancer Center Accreditations
The Cancer Center of Excellence designation
Accredited Commission on Cancer Program
Certified by American Society of Clinical Oncology (ASCO)
Lung Cancer Screening Center of Excellence in the South Florida region by the Lung Cancer Alliance of America
American College of Radiology (ACR) Lung Cancer Screening Center accreditation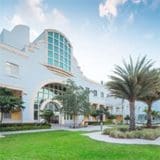 Get Help Contacting Sylvester Comprehensive Cancer Center