Maine Mesothelioma Doctors, Cancer Centers and Treatment
If you live in the state of Maine and have been diagnosed with mesothelioma, you have access to a number of treatment options. Conventional mesothelioma treatments available in Maine include surgery, chemotherapy and radiation. Beyond these conventional treatments, clinical trials may currently be recruiting pleural and peritoneal mesothelioma patients in Maine.
We have listed top mesothelioma doctors that practice in Maine as well as the top cancer care centers in the state. Additionally we have located a number of local cancer treatment support services for your convenience. Read more about health care options available to you in Maine here.
Maine Mesothelioma Statistics
Mesothelioma Deaths, 1999 - 2015

Asbestosis Deaths, 1999 - 2015

Total Deaths, 1999 - 2015
Mesothelioma Cancer Centers in Maine
Quality cancer treament services are available at the following mesothelioma cancer centers in Maine. More detailed information about each cancer center is available by clicking on the appropriate a cancer center detail link.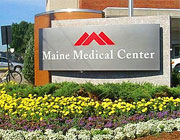 Scarborough, ME
The Thoracic Oncology Center at Maine Medical Center Cancer Institute provides extensive, multidisciplinary care for patients with mesothelioma and other types of lung cancer.
Bar Harbor, ME
The Jackson Laboratory is among the best mesothelioma cancer centers in the nation with top doctors providing state of the art cancer treatment for patients.
Doctors who Treat Mesothelioma in Maine
If you need help with getting an accurate diagnosis or developing a treatment plan, the following mesothelioma doctors and oncologists in Maine have the expertise to assist you. More detailed information about each doctor is available by clicking on the appropriate a doctor detail link. Details about their background, areas of expertise, professional affiliations, office locations and contact information is provided.
Dr. Blank
Augusta, ME
Thoracic/Cardiovascular Surgeon
MaineGeneral Medical Center
Augusta, ME 04330
(207) 861-6550
Dr. Seth D. Blank is a thoracic/cardiovascular surgeon involved in mesothelioma treatment at the MaineGeneral Medical Center in Augusta, Maine.
Dr. Hochheiser
Scarborough, ME
Dr. Gary M. Hochheiser is a surgical oncologist who serves as director of thoracic surgery and thoracic oncology and medical director for the Lung Screening Program at Maine Medical Center where he specializes in the treatment of thoracic diseases, including mesothelioma.
Occasionally, mesothelioma patients will travel to other states to meet with top mesothelioma doctors and thoracic surgeons across the country. These experts will usually concentrate on a particular mesothelioma type within their practice.
Top Peritoneal Mesothelioma Doctors in the Country
Vice Chair, Surgical Oncology Services

UPMC Hillman Cancer Center
Chief Surgical Officer

Rutgers Cancer Institute of New Jersey
Locate Cancer Support Services in Maine
While receiving treatment, mesothelioma patients may find a need for temporary lodging, patient transport, physical therapy or counseling. We have compiled a list of these cancer support services in Maine for your convenience.
Maine Treatment Support Services
Counseling & Support Groups

Look Good Feel Better, Cancer Care Center of York County


(Sanford)
800-227-2345

Look Good Feel Better, Harold Alfond Center for Cancer Care


(Augusta)
800-227-2345

Look Good Feel Better, Cary Medical Center


(Caribou)
800-227-2345

Look Good Feel Better, Southern Maine Health Care


(Biddeford)
800-227-2345

Look Good Feel Better, Houlton Regional Hospital


(Houlton)
800-227-2345

eHope Foundation


(Portland)
207-856-7340

Look Good Feel Better, Mid Coast Hospital


(Brunswick)
800-227-2345

Cancer Care


(Squirrel Island)
201-444-6630

Look Good Feel Better, York Hospital


(York)
800-227-2345
Look Good Feel Better, The Aroostook Medical Center


(Presque Isle)
800-227-2345

Look Good Feel Better, St Marys Regional Medical Center


(Lewiston)
800-227-2345

Look Good Feel Better, Cancer Care of Maine


(Brewer)
800-227-2345

Look Good Feel Better, Stephens Memorial Hospital


(Norway)
800-227-2345

Look Good Feel Better, The Dempsey Center


(Lewiston)
800-227-2345

Look Good Feel Better, Cancer Community Center


(South Portland)
800-227-2345

Patient Transport

Regional Transportation Program, Inc.


(Portland)
800-244-0704
Treating Mesothelioma Can Be Expensive in Maine
The costs associated with mesothelioma treatment can add up quickly. Additionally, many people may need to take time off work or stop working altogether to deal with their cancer diagnosis.
The table below provides cost estimates for some of the procedures commonly used in diagnosing and treating mesothelioma.
Common Costs Associated with Treating Mesothelioma
| Mesothelioma Diagnosis & Treatment Costs | Approximate Cost Range |
| --- | --- |
| Diagnostic Imaging (CT, PET, MRI) | $800 – $1,600 per scan |
| Needle Biopsy | $500 – $700 |
| Thoracoscopy or Pleuroscopy (lungs) or Laparoscopy (abdomen) | $3,600 – $5,000 |
| Thoracotomy (lungs) or Laparotomy (abdomen) | $7,800 – $7,900 |
| Surgery – Lobectomy/Pneumonectomy (removal of part or all of a lung) | $13,000 – $17,000 |
| Radiation | $7,000 – $12,000 |
| Chemotherapy – Pemetrexed (Alimta®) | $37,000 – $50,000 |
| Hyperthermic Intraperitoneal Chemotherapy (HIPEC) | $700 – $1,000 |
NOTE: The table above does not take insurance payments or reimbursements into account. These cost estimates are estimated using data from the FAIR Health Consumer Cost Lookup tool, Healthcare Bluebook, and other sources.
Filing an Asbestos Exposure Claim
Don't lose your right to file a claim. If you or a loved one has been diagnosed with mesothelioma and were exposed to asbestos in Maine, you may be entitled to compensation. You must file your claim within the appropriate statute of limitations for the state of Maine.
Free Help for Maine Mesothelioma Patients
Author: Linda Molinari
Editor in Chief, Mesothelioma Cancer Alliance
Read about Linda
Reviewer: Jennifer R. Lucarelli
Lawyer for Mesothelioma Victims and Their Families
Read about Jennifer