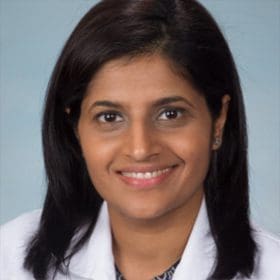 Dr. Suma Satti Reddy
Medical Oncologist
---
Affiliated Treatment Facilities
St. Tammany Cancer Center
Contact Information
Ochsner Medical Center
1514 Jefferson Highway
New Orleans, LA 70121
(504) 842-3000
01. Doctor Overview
Doctor Overview
Dr. Suma Satti Reddy is an oncologist at St. Tammany Cancer Center. This center is part of the Ochsner Medical Center in New Orleans, Louisiana. Ochsner Medical Center also offers cancer care at the Gayle and Tom Benson Cancer Center. At St. Tammany Cancer Center, Dr. Satti specializes in treating various cancer types like mesothelioma. She is also the Vice Chair for Hematology/Oncology at this center.
Dr. Satti has more than 20 years' combined experience of medical studies and practice. She graduated with her medical degree from Kasturba Medical College in Manipal, India. Then, she completed her internship and residency at Ochsner Health System in Louisiana. Her internship was in internal medicine and her residency in medical oncology.
After completing her studies, Dr. Satti began working in the Ochsner Health System. Currently, she works at the Ochsner Medical Center and St. Tammany Cancer Center. Here, more than 110 physicians and healthcare professionals support cancer care. Many doctors at this center also perform research through clinical trials.
This center offers traditional treatments and cutting-edge, emerging methods. Other supportive and alternative treatments are also available, depending on individual cases. Some examples of these treatments are acupuncture, nutrition and yoga. There are also emotional and mental well-being services for patients, survivors and loved ones at the center.
02. Fast Facts
Doctor Fast Facts
Main Specialty: Medical Oncology
Other Interests & Specialties: Hematology, mesothelioma and oncology.
Certifications, Awards & Accolades: American Board of Internal Medicine Certification in Internal Medicine, recipient of Vitals 2018 Compassionate Doctor Recognition, recipient of Vitals 2018 On-Time Doctor Award, recipient of Vitals 2018 Patients' Choice Award
Education & Experience:
Medical Degree from Kasturba Medical College
Internship in Internal Medicine at Ochsner Health System
Residency in Internal Medicine at Ochsner Health System
Fellowship in Medical Oncology at Ochsner Health System
03. Publications
Publications
Phase Ib clinical study of CBP501, cisplatin, and nivolumab administered every three weeks in patients with advanced refractory tumors: Efficacy in dose-escalation and expansion cohorts. Journal of Clinical Oncology. May 2020;38(Suppl 15):3059-3059. doi: 10.1200/JCO.2020.38.15_suppl.3059
A phase II trial of pembrolizumab in combination with cisplatin or carboplatin and etoposide in chemotherapy naive patients with metastatic or unresectable high-grade gastroenteropanncreatic or lung neuroendocrine carcinoma. Journal of Clinical Oncology. February 2020;38(4). doi: 10.1200/JCO.2020.38.4_suppl.TPS635
Outcomes of Patients With Late-Relapse Metastatic Renal Cell Carcinoma Treated With Targeted Therapies: A Single Institution Experience. Ochsner Journal. 2017;17(4):331-334.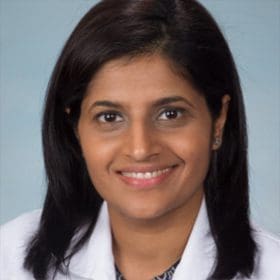 Get Help Contacting Dr. Suma Satti Reddy