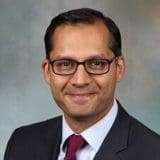 Dr. Nabil Wasif
Vice Chair of Education, Department of Surgery
---
Affiliated Treatment Facilities
Contact Information
5777 East Mayo Boulevard
Phoenix, AZ 85054
(480) 342-2000
01. Doctor Overview
Doctor Overview
Dr. Nabil Wasif is a consultant in the general surgery division of Mayo Clinic Hospital. His main area of interest is in cancer research and he has a speciality in researching melanoma, as well as malignancies of the pancreas and gastrointestinal tract. He also serves as a professor of surgery at Mayo Clinic Hospital. He specializes in the use of HIPEC (hyperthermic intraperitoneal chemotherapy), which is a specialized chemotherapy treatment.
Dr. Wasif's goal in research is to deliver better care to cancer patients through clinical management and decision-making. He conducts research projects through Mayo Clinic Hospital, some of which include the cost of overusing diagnostic imaging for melanoma and decision modeling to support the surgical management of intraductal papillary mucinous neoplasms of the pancreas.
02. Fast Facts
Doctor Fast Facts
Main Specialty: General Oncology
Other Interests & Specialties: Cancer research, malignancies of the gastrointestinal tract, pancreas, breast, melanoma, outcomes following treatment of small bowel carcinoid tumors, cancer-related care, peritoneal surface malignancies and peritoneal carcinomatosis.
Certifications, Awards & Accolades: Associate Professor of Surgery, Board Certification by an ABMS Member Board
Education & Experience:
Master of Public Health Degree from Harvard School of Public Health
Clinical Fellowship for Surgical Oncology at John Wayne Cancer Institute, Saint John's Health Center
Residency for General Surgery at New York Presbyterian Hospital
03. Publications
Publications
Readmissions After Complex Cancer Surgery: Analysis of the Nationwide Readmissions Database. Journal of Oncology Practice. June 2018;14(6):335-345. doi: 10.1200/JOP.17.00067
Robotic-assisted cytoreductive surgery with hyperthermic intraperitoneal chemotherapy (CRS-HIPEC). Journal of Robotic Surgery. May 2018. doi: 10.1007/s11701-018-0820-7
Mucinous appendiceal neoplasms: classification, imaging, and HIPEC. Abdominal Radiology (New York). January 2019. doi: 10.1007/s00261-018-01888-y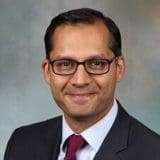 Get Help Contacting Dr. Nabil Wasif