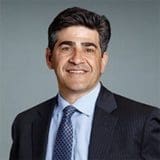 Dr. Daniel H. Sterman
Director of Multidisciplinary Pulmonary Oncology Program
---
Affiliated Treatment Facilities
Contact Information
Perlmutter Cancer Center
160 East 38th Street, 8th Floor
New York, NY 10016
(212) 731-5452
01. Doctor Overview
Doctor Overview
Dr. Daniel H. Sterman currently practices at NYU Langone's Perlmutter Cancer Center. Dr. Sterman's clinical focus relates to thoracic malignancies, their relationship with molecular medicine, and advancing technologies in Interventional Pulmonology. Further, as a researcher, Dr. Sterman's interests include gene therapy and vaccine therapy for lung cancer, along with therapies for pleural malignancies including mesothelioma. Dr. Sterman, recently, began a series of clinical trials aimed at understanding whether genetic immunotherapy is a viable treatment option for mesothelioma, pleural disease and other thoracic conditions.
02. Fast Facts
Doctor Fast Facts
Main Specialty: Critical Care, Internal Medicine, Pulmonary
Other Interests & Specialties: Pulmonology, general pulmonary medicine, critical care medicine, interventional pulmonology, pleural disease, small cell lung cancer, non-small cell lung cancer, solitary fibrous tumor, thymus cancer, thoracic oncology, pleural effusions, lung cancer and pleural mesothelioma.
Certifications, Awards & Accolades: American Board of Internal Medicine, America's Top Doctors for Cancer, America's Top Doctors, Philadelphia Magazine Award, CMS Stage 1 EHR, Super Doc Award
Education & Experience:
Medical Degree from Weill Cornell Medical College of Cornell University
Fellowship at University of Pennsylvania Health System
03. Publications
Publications
Extended Pleurectomy-Decortication–Based Treatment for Advanced Stage Epithelial Mesothelioma Yielding a Median Survival of Nearly Three Years. The Annals of Thoracic Surgery. March 2017;103(3):912–919. doi: 10.1016/j.athoracsur.2016.08.071
Checkpoint Blockade in Lung Cancer and Mesothelioma. American Journal of Respiratory and Critical Care Medicine. August 2017;196(3):274-282. doi: 10.1164/rccm.201608-1755CI
Stent-Mediated Gene Delivery for Site-Specific Transgene Administration to the Airway Epithelium and Management of Tracheobronchial Tumors. Respiration. November 2014;88(5):406-417. doi: 10.1159/000368164
04. Mesothelioma Clinical Trials
Mesothelioma Clinical Trials by Daniel H. Sterman, M.D.
Dr. Sterman is associated with the following clinical trials:
---
Conditions: Mesothelioma, Mesothelioma, Malignant
Last Updated: October 25, 2021
Status: Active, not recruiting
Locations: Los Angeles, CA. San Francisco, CA. Tampa, FL. Kansas City, KS. Baltimore, MD. Baltimore, MD. Minneapolis, MN. Rochester, MN. New York, NY. Philadelphia, PA. Dallas, TX.
---
Conditions: Mesothelioma, Mesothelioma, Malignant
Last Updated: September 21, 2015
Status: Completed
Locations: Philadelphia, PA.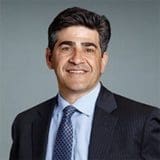 Get Help Contacting Dr. Daniel H. Sterman