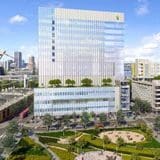 OHSU Knight Cancer Institute
---
Doctors Affiliated with this Treatment Facility
Contact Information
Center for Health & Healing
3303 South West Bond Avenue
Portland, OR 97239
(503) 494-7999
01. History
History of OHSU Knight Cancer Institute
The Knight Cancer Institute at the Oregon Health and Science University (OHSU) is a National Cancer Institute-designated Clinical Cancer Center, named as such in 1997. Part of the only health sciences academic institution in the state, the Knight Cancer Center strives to develop new methods for diagnosing cancer, emerging treatments for the disease and strategies for cancer prevention.
02. Mesothelioma Care
Mesothelioma Care at OHSU Knight Cancer Institute
OHSU Knight Cancer Institute provides team-based care at its Center for Health & Healing, which specializes in lung cancer treatment. The center is ranked among the top cancer centers in the country and provides care from experts in a variety of fields, including mesothelioma.
The team is made up of experts in surgery, pulmonary medicine, critical care, radiation and medical oncology, nursing and other areas of expertise. For instance, depending on the personalized mesothelioma treatment plan, a patient's team may involve different experts. The staff at OHSU performs molecular testing in order to personalize treatment plans for patients, as well as provide immunotherapy options. The team holds tumor board meetings every three months to examine cases on an individual level for a collaborative assessment of the cancer, which gives patients the benefits of receiving care from an entire team's expertise.
The center provides clinical trials to those who are eligible, determined from a precise molecular analysis. OHSU also offers resources for patients, as well as support services for patients and their families. This includes palliative care, spiritual and survivorship services, classes, support groups and, in some cases, animal therapy.
03. Specializations
OHSU Knight Cancer Institute Specializations
Chemotherapy
Immunotherapy
Radiation therapy
Surgery
04. Accreditations
OHSU Knight Cancer Institute Accreditations
Commission on Cancer (CoC) accreditation
National Cancer Institute (NCI) Comprehensive Care Center
Association of American Cancer Institutes member
Ranked No. 1 Hospital in Oregon recognition from U.S. News & World Report's Honor Roll of Best Hospitals (among the top 50 hospitals nationally)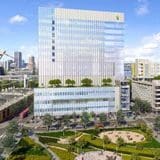 Get Help Contacting OHSU Knight Cancer Institute