Mesothelioma Cancer Centers
Massachusetts General Hospital Cancer Center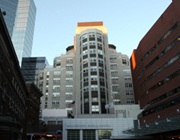 Doctors Affiliated with this Treatment Facility
The Massachusetts General Hospital Cancer Center at Mass General Hospital in Boston, MA is a leading cancer institution with expert services in hematology and oncology, pediatric hematology and oncology, radiation oncology, surgical oncology, psychiatric oncology, oncology nursing, and oncology social work. The Mass General Hospital Cancer Center is affiliated with an extensive network of cancer programs throughout New England, New York, and Florida. As a national cancer provider, the center offers multidisciplinary care for both adults and children. The highly acclaimed surgeons are experienced in their craft and perform a high volume of cancer surgeries.
The Massachusetts General Hospital is an NCI-designated cancer center member. The facility is ranked among the top ten cancer centers in the nation by the U.S. News & World Report for its approach to cancer care and clinical trials. The center houses 23 fully integrated clinical programs and is one of the largest hospital-based research programs in the country. This comprehensive cancer center collaborates with the Dana-Farber/Harvard Cancer Centers for basic and clinical research for adult and pediatric cancers within the Harvard-affiliated institutions.
History
In the early 1800s, the Boston area was in great need of a hospital. In response to this need, Reverend John Bartlett collaborated with doctors and other leading citizens to arrange various fund-raising campaigns to raise enough money to begin building the needed facility. On September 3, 1821, the first Boston hospital opened and began administering healthcare to the public. The facility also became the first teaching hospital to be affiliated with the Harvard Medical School within the first year of service. In 1811, a charter was passed by the state legislature to incorporate the Massachusetts General Hospital into Boston. With various gifts and generous donations, the trustees bought the estate in Charlestown and began renovations.
The Massachusetts General Hospital Cancer Center was established in 1986. Kurt Isselbacher, M.D., founded the Center for Cancer Research in Boston's Charlestown Navy Yard in order to study the various stages of cancer. Bruce Chabner, M.D., became the cancer center's clinical director in 1995 where his leadership guided several disease-specific multidisciplinary programs. He expanded clinical care and clinical research in medical oncology, and his efforts led to the integration of surgical and radiation oncology programs at the center. Finally in 2003, Daniel Harber, M.D., resumed as the director where he was known for his research of genetics in human cancer.
Mesothelioma Treatment at Massachusetts General Hospital Cancer Center
Massachusetts General Hospital Cancer Center is home to the Center for Thoracic Cancers where patients are diagnosed and treated for mesothelioma, lung cancer, esophageal cancer, Thymoma, and other thoracic cancers. A team of pathologists, diagnostic radiologists, surgical and medical oncologists, palliative care providers, and other support staff use advanced treatments with patients with these forms of thoracic cancer. Advanced therapies with the combined efforts in cutting-edge research and state-of-the-art medical technology produce optimal results. MGHCC is continually developing new therapies through new and emerging scientific research programs. The thoracic cancer research program is one of the largest programs in New England and offers patients new and effective treatment plans.
The internationally recognized thoracic cancer pathologists at Mass General Hospital Cancer Center are experts in the diagnosis of lung cancer. Diagnostic radiologists use the most advanced technology and imaging tools including chest radiographs, computed tomography scan (CT or CAT scans), MRI, PET, and nuclear medicine scans to provide an accurate diagnosis and staging of the patient's disease. Minimally invasive procedures, including percutaneous needle biopsy and navigation bronchoscopy are used in the diagnosis process. Radiation oncologists use advanced therapies such as external radiation (external beam therapy), internal radiation (brachytherapy), implant radiation, and proton beam radiation depending on the outcome of the pre-treatment, 4-D CT scan.
The multidisciplinary team of thoracic and lung cancer specialists use a combination of surgery, chemotherapy, and radiation to treat their patients. Care plans are personalized to accommodate each patient's medical condition, stage of disease, or characteristics of the disease. Many of the procedures used are only available in a select group of hospitals. The center is home to the only proton radiation facility in New England and one of the only centers to have access to Advanced Endoscopy Services. Thoracic surgeons specialize in minimally invasive surgical procedures including video-assisted thorascopic surgery. They have pioneered many procedures that are now standard in surgical departments throughout the country.
Author: Linda Molinari
Editor in Chief, Mesothelioma Cancer Alliance
Read about Linda
Reviewer: Annette Charlevois
Patient Support Coordinator
Read about Annette
Sources