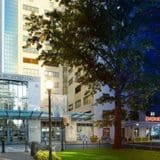 Hartford HealthCare Cancer Institute at Hartford Hospital
---
Contact Information
85 Retreat Avenue
Hartford, CT 06106
(855) 255-6181
01. History
History of Hartford HealthCare Cancer Institute at Hartford Hospital
Established in 1854, Hartford Hospital is a leading medical center in central Connecticut. The Hartford Hospital treats cancer patients at the Hartford HealthCare Cancer Institute. The center is one of the largest in the northeastern United States and treats more than 50,000 patients each year. In addition to the talented physicians employed by the Hartford Hospital, the Cancer Institute is a member of the Memorial Sloan Kettering Alliance. Membership in the alliance enables patients to participate in clinical trials and other cutting edge treatments offered at the New York facility. The hospital is also affiliated with the University of Connecticut Medical School.
The alliance enables standardization of care. This collaboration elevates the care offered at both treatment centers and allows for smoother transitions for patients from one center to the other. At both facilities, mesothelioma patients can receive cutting-edge treatments through personalized treatment plans, including robotic-assisted surgeries to improve recovery times. Hartford Hospital has pioneered the use of robotic surgery. In 2006, Dr. Joseph Wagner became the director of the hospital's robotic surgery program which, to date, has performed the most robotic surgeries of any hospital nationwide with one robot. Specialists at Hartford Hospital also have advanced diagnostic techniques, like the Endobronchial Ultrasound (EBUS) that is able to quickly detect hard-to-reach tumors. Hartford also operates LIFE STAR, Connecticut's only air ambulance system that transfers patients to hospitals throughout New England and New York.
The high standards and advanced techniques of the Hartford HealthCare Cancer Institute ensure that the 6,000 new cancer patients treated each year are receiving the best care possible. Innovations at the center continue daily, like the opening of the Cancer Care Innovation Unit, which offers phase I clinical trials.
02. Specializations
Hartford HealthCare Cancer Institute at Hartford Hospital Specializations
Cancer imaging
Clinical trials
Palliative care
Personalized therapy
Radiation oncology
Surgical oncology
Thoracic diseases
Thoracic surgery
Video-assisted thoracic surgery (VATS)
03. Accreditations
Hartford HealthCare Cancer Institute at Hartford Hospital Accreditations
Accredited by the American College of Surgeons' Commission on Cancer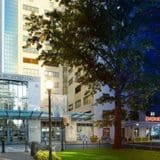 Get Help Contacting Hartford HealthCare Cancer Institute at Hartford Hospital