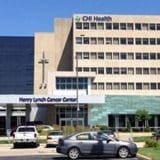 CHI Health Henry Lynch Cancer Center
---
Doctors Affiliated with this Treatment Facility
Contact Information
CUMC – Bergan Mercy
7500 Mercy Road
Omaha, NE 68124
(402) 717-2273
01. Mesothelioma Care
Mesothelioma Care at CHI Health Henry Lynch Cancer Center
CHI Health treats cancer patients through the CHI Health Henry Lynch Cancer Center. One of their main priorities is to provide the utmost care for patients and their families. Their cancer center provides patients with a strong team of expert oncologists, radiation oncologists and cancer nurse navigators. Together, the patient's medical care team will create a treatment plan specific to the patient's cancer diagnosis.
CHI Health has particular expertise in treating malignant peritoneal mesothelioma. CHI Health offers the effective mesothelioma treatment technique of cytoreductive surgery and heated intraperitoneal chemotherapy, known as HIPEC. Peritoneal mesothelioma patients seeking this type of treatment through CHI Health will participate in the Peritoneal Neoplastic Disease program.
To offer additional support to both cancer patients and their loved ones, this cancer center also offers a cancer genetics program, cancer support groups and a Renewed Hope Boutique. Cancer social workers and cancer nurse navigators also help patients understand their treatment plan and make educated decisions regarding their care.
02. Specializations
CHI Health Henry Lynch Cancer Center Specializations
Peritoneal mesothelioma
HIPEC
Abdominal surgeries
03. Accreditations
CHI Health Henry Lynch Cancer Center Accreditations
Network Accreditation with Commendation from the American College of Surgeons' Commission on Cancer (CoC)
American College of Radiology Accreditation
COC Outstanding Achievement Award
NCI Community Oncology Research Program
QOPI Certification
04. Mesothelioma Clinical Trials
Mesothelioma Clinical Trials at CHI Health Henry Lynch Cancer Center
The following clinical trials are in progress or actively recruiting participants at CHI Health Henry Lynch Cancer Center:
Sorry, there are no clinical trials to display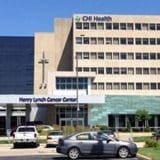 Get Help Contacting CHI Health Henry Lynch Cancer Center