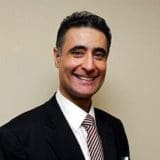 Dr. Shahriyour Andaz
Director of Thoracic Oncology
---
Affiliated Treatment Facilities
South Nassau Communities Hospital on Long Island
Contact Information
444 Merrick Road, Suite 380
Lynbrook, NY 11563
(516) 255-5010
01. Doctor Overview
Doctor Overview
Dr. Shahriyour Andaz is a the Director of Thoracic Oncology, specializing in the treatment of lung cancer, at the South Nassau Communities Hospital on Long Island, NY. A native of India who is fluent in Hindi, Dr. Andaz has studied at institutions in the United Kingdom and the United States, offering patients expertise from international experts. Dr. Andaz is also recognized for his passion to educate and help his community, known for reaching out to lung cancer patients in Long Island.
As the author and collaborator of over two dozen papers and articles, Dr. Andaz has been published in the Journal of Vascular Surgery, the Journal of Cardiovascular Surgery, the British Journal of Surgery and several other peer-reviewed publications. He regularly speaks at national and international conferences and has been a featured guest at meetings of the Royal Society of Medicine and the American College of Surgeons.
02. Fast Facts
Doctor Fast Facts
Main Specialty: Thoracic Surgery
Other Interests & Specialties: General cardiac/thoracic surgery, mesothelioma, thoracic oncology, early diagnosis of lung cancer, robotic assisted thoracic surgery of the lung, vascular surgery, aneurysm, and deep vein thrombosis.
Certifications, Awards & Accolades: American Board of Surgery Certification in Surgery, American Board of Thoracic Surgery Certification in Thoracic and Cardiac Surgery, ACS Fellow, New York Metro Area Top Doctors Award, Newsday Top Long Island Doctors Award, Outstanding Achievement Award from the American College of Surgeons Commission on Cancer
Education/Experience:
Residency for General Surgery at Bronx-Lebanon Hospital Center
Residency for Thoracic Surgery at Maimonides Medical Center
Fellowship for Thoracic Surgery at SUNY Health Science Center at Brooklyn
Fellowships at the Royal College of Surgeons in Glasgow and Edinburgh
Advanced Fellowship Training in pleurectomy for mesothelioma from UCLA
Medical Degree from Grant Medical College
03. Publications
Publications
Delayed esophageal perforation from stereotactic body radiation therapy for locally recurrent central nonsmall cell lung cancer. Lung India. April 2014;31(2):158-60. doi: 10.4103/0970-2113.129854
Balancing curability and unnecessary surgery in the context of computed tomography screening for lung cancer. The Journal of Thoracic and cardiovascular surgery. May 2014; 147(5):1619-26. doi: 10.1016/j.jtcvs.2013.11.001
Sublobar resection is equivalent to lobectomy for clinical stage 1A lung cancer in solid nodules. The Journal of Thoracic and cardiovascular surgery. February 2014;147(2):754-62. doi: 10.1016/j.jtcvs.2013.09.065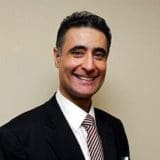 Get Help Contacting Dr. Shahriyour Andaz