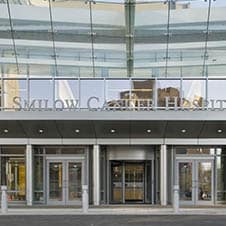 Smilow Cancer Hospital at Yale-New Haven
---
Doctors Affiliated with this Treatment Facility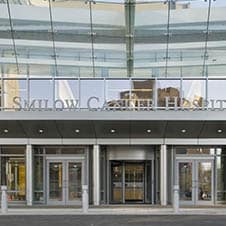 Smilow Cancer Hospital at Yale-New Haven
---
Doctors Affiliated with this Treatment Facility
01. History
History of Smilow Cancer Hospital at Yale-New Haven
Yale-New Haven Hospital's history dates back to 1826 when the General Hospital Society of Connecticut was founded as the first hospital in the state. The hospital rented a building until 1833, when a new 13-bed facility named State Hospital was built. During the Civil War, State Hospital was used as a military hospital to care for wounded Union soldiers, but it returned to treating the public after the war. Over the years, New Haven residents began informally referring to the hospital as "New Haven Hospital," and in 1884 the name was officially adopted. New Haven Hospital formalized its relationship with the Yale School of Medicine in 1913, although it would not become Yale-New Haven Hospital until the mid-1960s. Decades later, Smilow Cancer Hospital opened its doors in October 2009.

02. Mesothelioma Care
Mesothelioma Care at Smilow Cancer Hospital at Yale-New Haven
Smilow Cancer Hospital at Yale-New Haven Hospital's Thoracic Oncology Program provides multidisciplinary treatment for those diagnosed with mesothelioma and other lung cancers. Their advanced research gives patients personalized targeted thoracic therapy throughout their treatment, whether it is in its early stages or advanced. The hospital is considered a leader in thoracic and lung malignancies, providing personalized care to all patients and help leading research efforts for a number of cancers.
Specialists in the Thoracic Oncology Program meet on a regular basis to discuss specific patient treatment issues and develop a plan and personalized options. Their collective expertise in medical and radiation oncology, pulmonary medicine and thoracic surgery provide patients with options and cutting-edge treatments such as 4D conformal treatment planning and minimally invasive surgery.
The program at Smilow Cancer Hospital also offers access to clinical trials at their location, as well as through their partnership with Yale Cancer Center, providing patients with a range of promising mesothelioma treatment options. Their partner, Yale Cancer Center, is a National Cancer Institute (NCI) designated comprehensive cancer center as they help lead cancer research to help improve prevention, as well as develop new diagnostic tools and treatments. In particular, the research centers are investigating ways to lower risk of cancer and screening for lung cancer and molecular characterization of lung cancers. The Thoracic Oncology Program fosters collaborations among those actively treating patients and those focused on research to ensure patients always get the latest and best treatments possible.
Smilow Cancer Hospital provides support options for patients and their families, including art programs, cancer support groups, spiritual care and survivorship clinics. They also provide an integrative medicine program for patients which focuses on physical and emotional hardships during treatment, ultimately establishing a relationship between the patient and practitioner to achieve health and healing.
03. Specializations
Smilow Cancer Hospital at Yale-New Haven Specializations
Diagnostic imaging
Medical oncology
Nursing
Pulmonary medicine
Pathology
Radiation oncology
Thoracic surgery
04. Accreditations
Smilow Cancer Hospital at Yale-New Haven Accreditations
National Best Hospitals by U.S. News & World Report
Magnet designation from the American Nurses Credentialing Center (ANCC)
05. Mesothelioma Clinical Trials
Mesothelioma Clinical Trials at Smilow Cancer Hospital at Yale-New Haven
The following clinical trials are in progress or actively recruiting participants at Smilow Cancer Hospital at Yale-New Haven:
---
Conditions: Carcinoma, Neoplasms, Carcinoma, Squamous Cell, Adenocarcinoma, Neoplasms, Germ Cell and Embryonal, Mesothelioma, Nasopharyngeal Carcinoma, Cholangiocarcinoma, Carcinoma, Basal Cell, Gastrointestinal Stromal Tumors, Carcinoid Tumor, Carcinoma, Transitional Cell, Carcinoma, Adenoid Cystic, Teratoma, Adenocarcinoma of Lung, Carcinoma, Neuroendocrine, Pheochromocytoma, Seminoma, Choriocarcinoma, Cystadenocarcinoma, Serous, Cystadenocarcinoma, Carcinoma, Endometrioid, Paraganglioma, Chordoma, Hemangiosarcoma, Fibromatosis, Aggressive, Adenocarcinoma, Clear Cell, Adenocarcinoma, Mucinous, Trophoblastic Neoplasms, Gestational Trophoblastic Disease, Nerve Sheath Neoplasms, Neurofibrosarcoma, Thyroid Neoplasms, Fibroma, Cystadenocarcinoma, Mucinous, Pseudomyxoma Peritonei, Vulvar Neoplasms, Sex Cord-Gonadal Stromal Tumors, Adrenocortical Carcinoma, Carcinoma, Islet Cell, Paget Disease, Extramammary, Adenocarcinoma, Papillary, Carcinoma, Acinar Cell, Adenocarcinoma, Bronchiolo-Alveolar, Mixed Tumor, Mullerian, Neoplasms, Unknown Primary, Carcinoma, Giant Cell
Last Updated: April 3, 2021
Status: Recruiting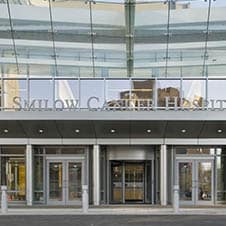 Get Help Contacting Smilow Cancer Hospital at Yale-New Haven