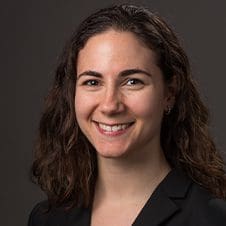 Dr. Sarah Goldberg
Chief of Thoracic Oncology
---
Affiliated Treatment Facilities
Contact Information
Smilow Cancer Hospital Care Center
35 Park Street
New Haven, CT 06511
(203) 200-5864
01. Doctor Overview
Doctor Overview
Dr. Sarah Goldberg is a thoracic oncologist at the Yale Cancer Center, where she treats cancer patients. She holds a number of leadership roles there. She is:
Associate Program Director for the Medical Oncology-Hematology Fellowship
Chief of Thoracic Oncology
Research Director for the Center for Thoracic Cancers
Dr. Goldberg also teaches as an associate professor at the Yale School of Medicine and conducts clinical research on lung cancer.
Dr. Goldberg earned her medical degree at Mount Sinai School of Medicine. She did her residency at Massachusetts General Hospital and completed her fellowship at the Dana-Farber Cancer Institute. She also holds a Master of Public Health (MPH) from the Harvard School of Public Health.
Dr. Goldberg frequently sees patients at the Smilow Cancer Hospital Care Center – North Haven location. Dr. Goldberg is a clinician with a special focus on cancers of the lungs and chest. These include illnesses such as lung cancer, mesothelioma and thymoma.
She also conducts clinical trials, clinical and translational research and has published numerous studies and articles. Dr. Goldberg's primary research focus is novel treatment strategies for certain types of lung cancer, including immunotherapy treatments like checkpoint inhibitors. Dr. Goldberg has also presented on mesothelioma diagnosis and traditional and emerging treatments for pleural mesothelioma.
02. Fast Facts
Doctor Fast Facts
Main Specialty: Thoracic Oncology
Other Interests & Specialties: Non-small cell lung cancer, immunotherapy, thoracic neoplasms and biomarkers.
Certifications, Awards & Accolades: Yale Cancer Center Award for Teaching Excellence 2023
Education & Experience:
Medical Degree from Mount Sinai School of Medicine
Master's Degree in Public Health from Harvard School of Public Health
Residency at Massachusetts General Hospital
Fellowship at Dana-Farber Cancer Institute
03. Publications
Publications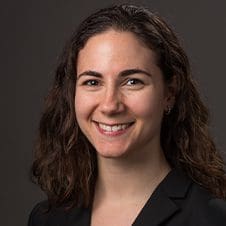 Get Help Contacting Dr. Sarah Goldberg