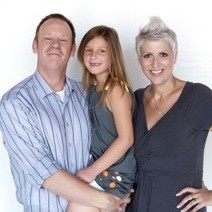 Becoming a caregiver started the moment my wife was diagnosed with mesothelioma cancer. Like many others, my wife and I were not prepared for the news she had cancer. A little over three months prior to my wife's cancer diagnosis, we had celebrated the birth of our only child, our daughter Lily. We had assumed we would be settling down to our new lives as parents, not dealing with a cancer diagnosis. The diagnosis shattered our lives.
Even before we left the doctor's office, my responsibilities as a caregiver were becoming apparent. The doctor had informed us Heather had malignant pleural mesothelioma. He went on to explain a bit about the cancer and then gave us three choices of where we could go next to fight the cancer. My wife was in tears from the news she had cancer. She listened to the doctor's three choices and was silent. I waited for her to ask a question; to say something, but she was silent and still stunned from the news. I looked into her eyes to see what she was thinking. The look in her eyes said "God help me!" I looked over at the doctor and said "Get us to Boston" and with that, I was a caregiver.
My wife and I had different reactions to her diagnosis. She was stunned and in a state of shock and disbelief for a little while. I was mad! Anger would be my primary emotion for months. This was not supposed to be happening to me. I was supposed to be celebrating the birth of my daughter and adapting to life with her, not dealing with cancer. My life went from predictability to chaos in a moment. I frequently found myself feeling overwhelmed and helpless. I had little control of my life. Of all the events I have ever experienced, this was the most uncomfortable and helpless I had ever felt, and anger was how I dealt with it all.
Anger, denial, bargaining—we all deal with stressful situations differently and being a caregiver can be very stressful. My anger was at its worst when my wife and I went to Boston for treatment under Dr. David Sugarbaker. When angry, I would lash out at all who were around. I lashed out to people who were trying to help and I have seen this in others. I was lucky enough to be surrounded by people who were trained to deal with anger in others. They had seen this before and I'm sure they have seen it since.
Be aware of your emotions and don't let any one of them overwhelm or control you. I won't pretend to be knowledgeable enough to offer any sure fire solution to overcome any overwhelming emotions. For me it took some patient people and time. I needed to time to realize my anger was so strong that it inhibited my ability to make decisions and it pushed those away who were trying to help. I felt like I couldn't get anything done when I was angry, and it took a lot out of me. I hated how I lost control to anger.
While there are many things about my wife's cancer that make me angry, I am no longer consumed by this emotion. I have made a decision to live not in fear, but to remind myself how precious each day is. I find I am both happier and more productive now that I am no longer in anger's grasp. I hope that for all those who find themselves overwhelmed with anger, fear, denial, bargaining, or any other emotion that they find a way to move on. You will be happier and better prepared to be a caregiver and deal with all that life throws at you.
-Cams
Resources for Mesothelioma Patients